7 Best Colors for Bedroom Walls With Reasons & Benefits
While designing the home, a prominent question is: "which is the best color for the bedroom?" Your bedroom is a place where you spend leisure time and relax. The color of bedroom walls influences our mood and behavior.
We humans need colors that boost our mood and relax our minds. We need the energy vibe after waking up in the morning and a calm vibe after a hectic day. Choosing the best color for bedroom walls is not an easy task.
But guess what? We will explain how to choose color for bedroom walls and why to choose that color. So get ready to gain some knowledge.
1. Peach Color
Peach is a light shade that goes well with most interior types. The color gives our mind a sense of solace and a natural sunrise. Waking up around this color would make you feel like you are in nature and charge you for your day.
The peach color often symbolizes welcoming and recreational behaviors. The mostly peach color goes well with multiple soft and solid shades, but the color goes best with grey, white, light green, and yellow.
The shade boosts your psychology and helps the mind to behave with calmness. A calm mind is almost capable of solving every problem.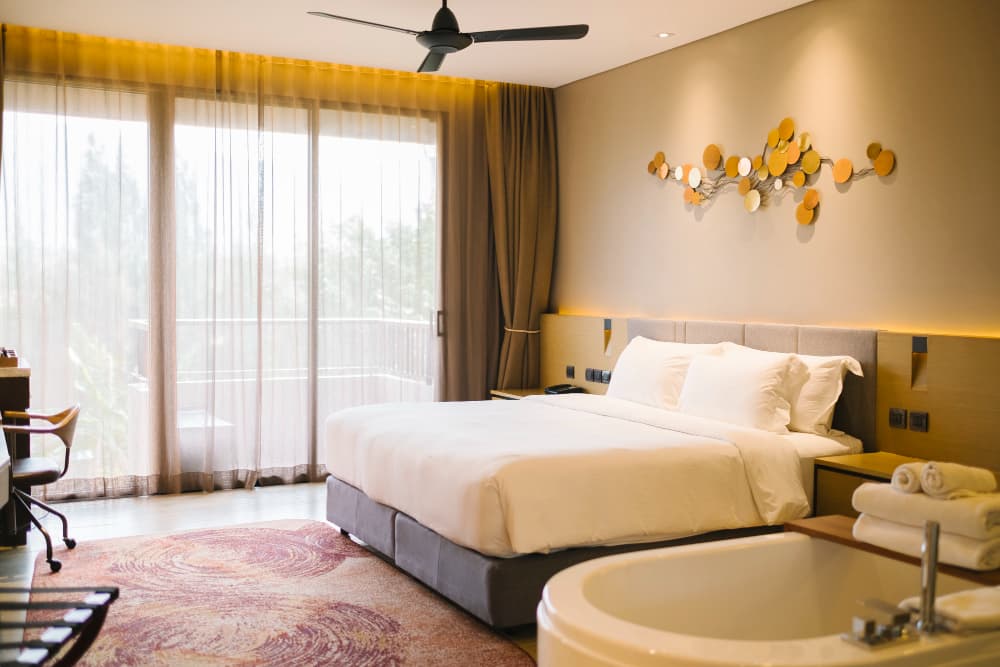 Why It's Great?
Calmness
Welcoming & recreational behavior
Sense of solace
2. Light Blue
Light blue shades are associated with trustability and solidness. Mid-age people prefer light-blue color for their bedroom shade. This color looks great with dark shades like orange. 
The shade goes well in every corner of your room and matches best with dark textured furniture. The best part about the light blue hue is that it suits in small spaces also. This is one of the best color for bedroom walls.
The color often lowers your anxiety levels, thus helping you to stay healthy. Our mind accepts a light blue hue as the natural shade of the sky. Thus, it helps to relax the mind.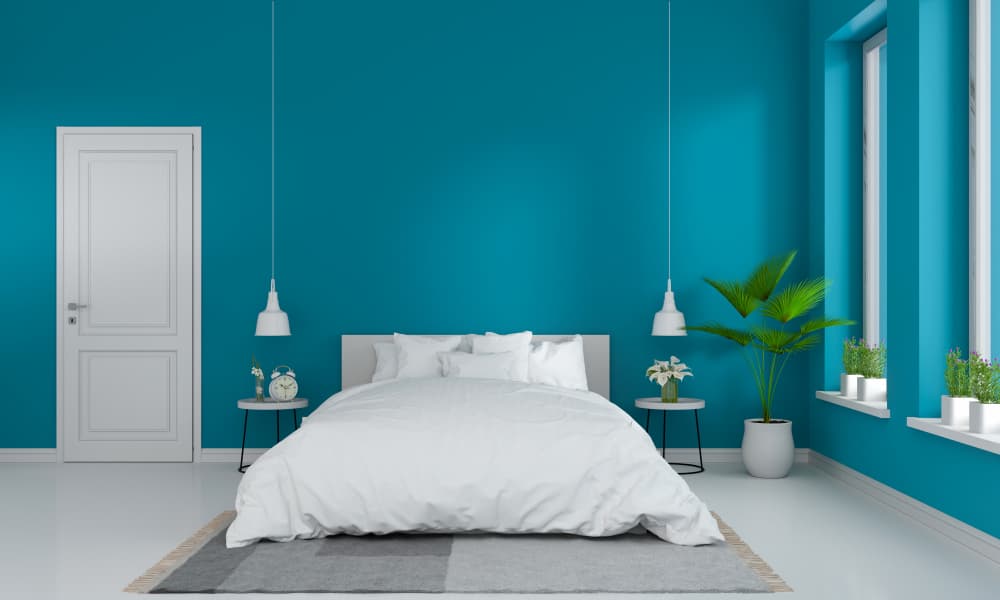 Why It's Great?
Reduce anxiety levels
Relax the mind
Sign of trustability
Also read: Interior Design Cost in India (2022-23): Per Square Foot, By Cities & Flat Size
3. Cream Color
"Simple is the new superior" is the idea behind the cream bedroom walls. Cream color is the most soothing and accepted wall color by people as it brings joy to sight and a spacious feel to the room.
Often called the best shade of yellow color, it goes well with heavy furniture and trendy interiors. The cream color is a symbol of openness, solace, and modesty. 
This color brings happiness, joy, and playfulness to the place and people who come to your bedroom.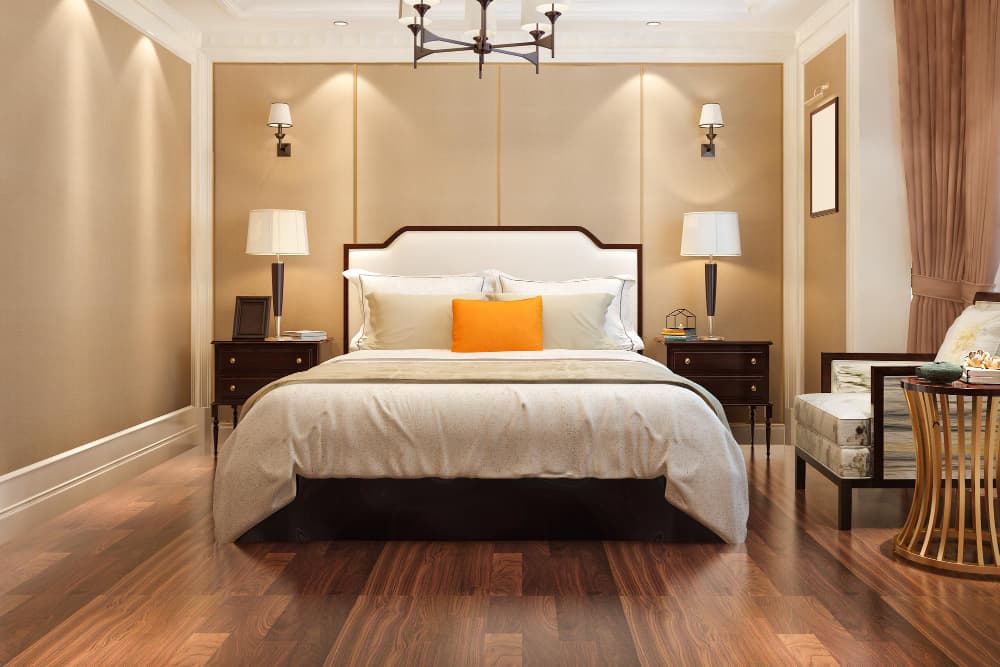 Why It's Great?
4. Grey
In current times, grey has become the favorite choice of interior designers. It is an ageless color that goes well with every interior design type.
With the graceful aura, the grey color creates a very exclusive ambiance and harmony. Also, it is seen that interiors get highlighted when placed near the grey walls. Grey is often the best color for wall in bedroom.
If you want bright-colored accessories in your bedroom, then grey is the best choice. This combination creates a joyous environment.
Furthermore, grey is a prominent option for your bedroom walls. It washes away all the disquiet and keeps the environment in control. The colors go very well with the innocent-styled bedroom designs of children.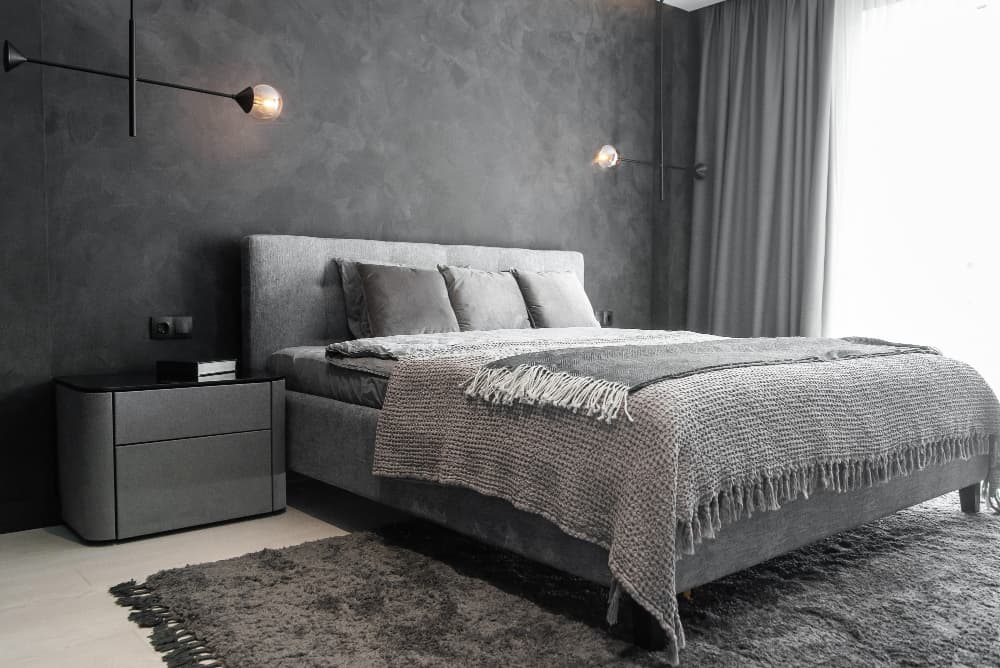 Why It's Great?
Harmony
Touch of innocence
Graceful aura
Also read: Full History of Interior Design With Timeline (From Egyptian to Victorian Era)
5. Blush Pink
The shade is associated with standards of glamour, unity, and delightfulness. The cozy shade develops an environment suitable for reading, relaxing, and drowsiness.
Blush pink color on bedroom walls look very modern and neutral. This goes well with symmetrical interior designs. You can choose affluent color tones like brown, rose red, orange, and light yellow shades. 
It is often associated with love and kindness. Living around this color makes you more delightful and accepting. The shade reduces aggression and anger, promoting a peaceful environment.
Many people who like this shade are optimistic about the world and promote a happy world.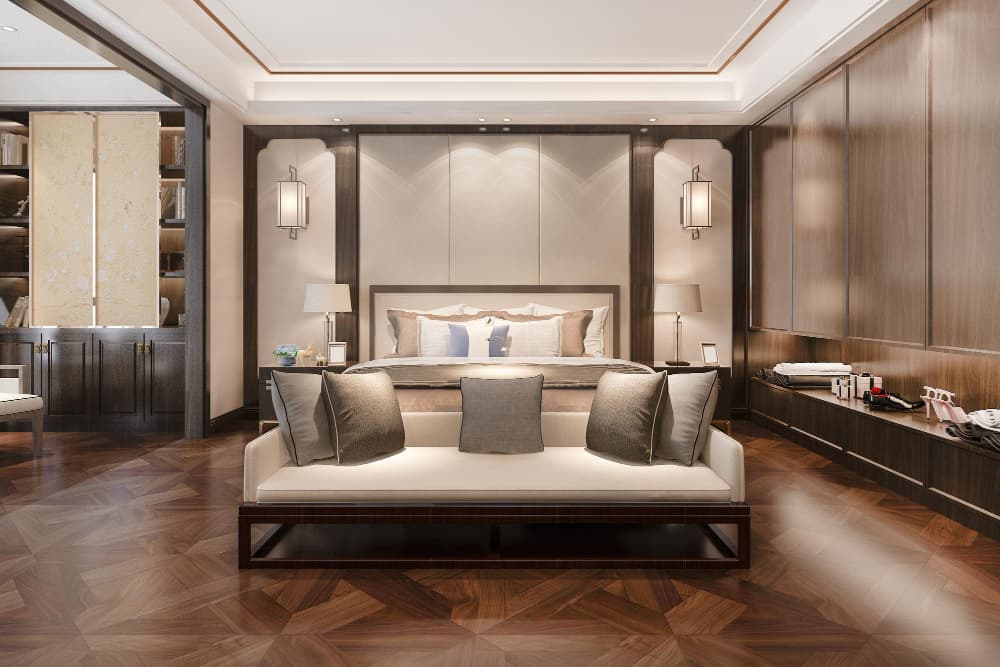 Why It's Great?
Sign of glamor and unity
Relaxing
Love and kindness
Reduce anger
Peaceful
6. Purple
The color symbolizes power, position, and grandeur. In earlier times, it was the most expensive color because the natural dye that produced it was very rare.
Purple stabilizes the aggressiveness of red color and the realm of blue color. Consider opting for a purple shaded interior around the purple walls, as purple is a highlighting color and will nadir other things.
The purple color combination brings honor, bravery, decency, and a sacred psychic aura to the bedroom. Your mind works in a more creative way around this color shade.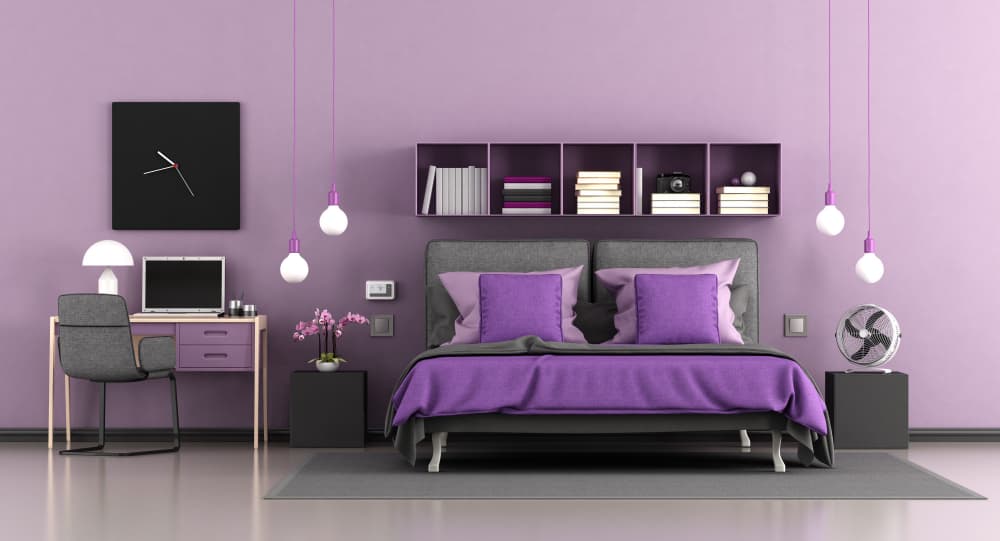 Why It's Great?
Sign of power, position, grandeur
Brings honor, bravery, and sacred aura
Creativity
Also read: What Are The 7 Interior Design Principles?
7. Burgundy
This color is best for big size bedrooms. Burgundy is often regarded as the color of happiness and friendship. It is derived from the color of wine and shows how grapes transform from a solid fruit to solve liquid.
So it promotes the healthy transformation of the person. We consider burgundy the best color for bedroom walls.
The color is enduring and refined, and promotes enlightenment. The burgundy shade is perfect for master bedrooms with spacious and appealing light-colored interiors. It also brings soothing royal character to your bedroom.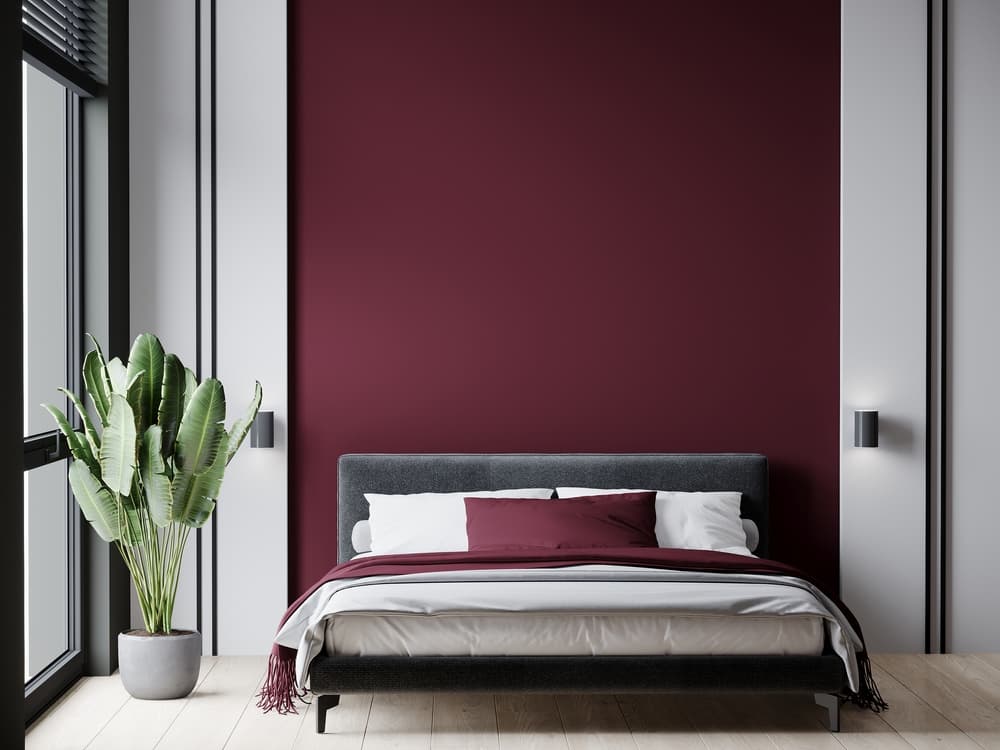 Why It's Great?
Happiness and friendship
Healthy transformation
Promotes enlightenment
Which is The Best Color for Bedroom?
Wall colors deeply impact our lives, but people often ignore their importance. However, we hope that we have made it easy for you to know how to choose colors for bedroom. Wondering which is the best color for bedroom? It all depends on what you want to bring to your room, your personal preferences, and what sort of benefits you are looking for.
Consider talking to your interior designer and explaining your ideas and personality to them. We hope you will share this article with people about the best color for bedroom walls in India.