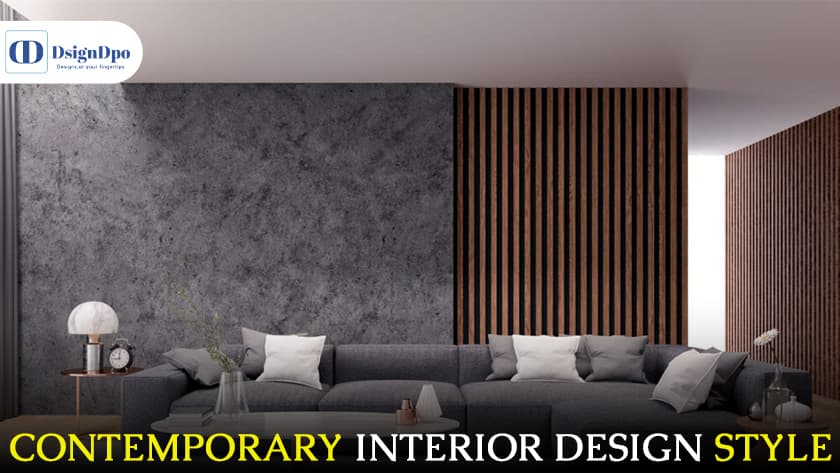 What is Contemporary Interior Design Style? Full Guide 2023
When you ask, "what is contemporary interior design?" you probably get different answers depending on whom and when you ask the question. This is because the contemporary style is ever-changing and adapts to emerging trends and new design movements. There's no one blueprint to define the ever-evolving look of contemporary style.
Contemporary is a household feature in every artistic occupation. Be in music, photography, artwork, or anything that signifies creativity with elegance. So why not in interior design? 
What Does Contemporary Design Mean?
Contemporary design style is an evolving trend in architecture and interiors that focuses on simple, sleek, and stylish simplicity. It incorporates neutral colour palettes, minimalist trends, and clean lines and relies on glass, polished stone, and metal materials. It transforms your abode into a haven for post-modernism and style.
The word contemporary signifies modern, which means anything that adds a touch of modernism. It's a blend of different interior design styles before it became distinguishable. It borrowed ideas and elements from modernism, post-modernism, art deco, futurism, and many more—but it has certain key features that make it distinct from other styles. 
One cannot accurately define the features of contemporary interior design because of the dynamic nature of contemporary style. The features of contemporary style keep evolving based on the trends in interior design. To better understand its distinction, let's look at its key elements:
Also Read: 10 Types of Flooring in India: Which One is Right For Your Home?
Key Elements That Define Contemporary Interior Design
1. It's Time To Go Neutral
Contemporary is about keeping things clean and serene. Modern living spaces utilise a colour palette in neutral tones. Cool shades and neutral colours such as beige, black, grey, cream, and white do wonders for modern design. Neutral colours may seem dull, but they allow the bold colours in the home to stand out.
You can use muted neutrals for most of the space, and to create a dynamic environment, go bold. A contemporary home is full of contrast yet doesn't clash; instead, such clever use of colours creates harmonious, sophisticated visuals.
2. Inclusion Of Textures & Materials
If you are having difficulty getting away from the cold feel of a minimalist home, textures are the perfect thing to utilise. Texture is one of the primary sources of visual interest in contemporary decor.
Contemporary interior design calls for everything functional and modern that easily fits into a contemporary home. This draws its ambience mainly from its textures and incorporates natural materials like wood, jute, metal etc., with modern cut-out designs. Using natural textures and materials strategically can keep the space from looking dreary and monotonous.
3. Modest Shapes & Crisp Lines
Simple and geometric forms are the essential components of contemporary design. They add interest to the area with specific rules to follow to align with the design style.
Angular, geometric shapes are more suited for soft and curvy bodies.  You can easily alternate between straight lines and curved edges to make your home feel cosy and functional. It has fewer embellishments and little clutter that compliments the minimalist aesthetics.
Also Read: Top 20 Types of Beds for Home With Sizes
4. Minimalist and Decluttering
No extras, no waste, the basic funda of a modern contemporary home. Everything has a purpose and is well-balanced, with the idea of keeping things simple and streamlined. In this interior design style, you will find a lot of uncluttered and empty spaces.
However, the areas in this design style are not bare but leverage minimalism to highlight critical elements of space. If a corner is blank without any furnishing, in that case, it's unnecessary to decorate it just to have something there.  
5. Large & Open Floor Plan
The contemporary design favours a comprehensive, open layout to create a sense of spaciousness. An open floor plan gives an illusion of a larger area, so you should opt for it. Large windows allowing natural light makes the room look much more prominent.
Kitchen and dining rooms, entertaining areas and lounging spaces seamlessly flow in contemporary homes. These are ideal for entertaining friends and family, allowing free movement from one room to another. 
6. Contemporary Style Furniture
Furniture pieces should make a bold statement but simultaneously be simple, functional and uncluttered, without curves or decoration. Employ exquisite design and craftsmanship as long as the design inspiration follows a clean and defined structure.
Choose home furnishings that reflect contemporary style through unusual but attractive pieces that must be timeless, simple and classy, never to feel outdated. Look for silhouettes with clear lines and shapes. Opt for neutral-toned upholstery and use pillows, throw blankets and rugs to add accents and pops of colour.
Also Read: Most Simple Yet Useful Vastu Tips For the Perfect Interiors!
7. Contemporary Style Accessories
One of the features of contemporary interior design is the attention to simple but elegant accessories. Decorative accessories help you get creative when looking for a stylish home refresh. Less is more with the quality at the centre.
From lamps to decor objects to artworks, sometimes the best contemporary interior design approaches rely on the extras you bring into your room. This makes you feel more at ease and give you a better understanding of what items look best in your space.
8. Let There Be Light
Layering plenty of lighting is an integral part of any house. Whenever possible, be sure to let in lots of natural sunlight. Floor-to-ceiling windows work best to let light in from the windows.
The light fixtures are usually non-intrusive and high-end. Focus on choosing shapely fixtures that work well with your contemporary design flair. Each light fixture is a work of art with sculptural details and clean lines. For example, install light pendants in enclosed rooms and a stylish chandelier in open spaces.
Why Will You Love Contemporary Style?
Contemporary style is excellent for minimalistic looking to create a simple yet chic, thoroughly realised harmony between varying elements.
It features a mix of high-shine, contemporary home decor.
This decorating style is timeless and defined by a classic approach bringing together a room's luxurious simplicity.
Also Read: Interior Designing Cost in Kolkata -1,2,3 BHK, Flat and Per Sqt Ft
Difference Between Contemporary & Modern Design
Modern design refers to a specific design, whereas contemporary design generally describes what's trending now. While both styles look different, both appreciate minimalist, clean lines and well-defined shapes.
The table below gives a clear idea of the differences between these two design styles.
| | |
| --- | --- |
| Modern Style | Contemporary Style |
| Style tends to be a specific design and strict. | Style has many variations. |
| Decor pieces are more functional. | Decor pieces focus more on fashion and aesthetic appeal. |
| Naturals, neutrals colour palettes. | Colour palette tends towards contrast, with lots of whites, greys, beiges, and black. |
| Features wooden and more earth-friendly elements. | Uses more natural materials like steel, concrete, and other industrial-inspired elements. |
| Favours strong lines. | It often favours curve lines. |
| Adapts to the latest trends. | |
Conclusion
Contemporary interior design styles are the chameleon of interior design styles; ever-changing, constantly adapting, and highly versatile. Although it does have its essential elements, such as contrasting colour palettes and geometric shapes, this style does little to limit you in a box. When making interior design choices, it is ultimately your personality and aesthetic sensibilities that should matter.
You can usually identify several vital elements with any interior design style. Contemporary interior design styles tend to be more minimalistic than other forms of interior design, so certain elements shine through more clearly than others.