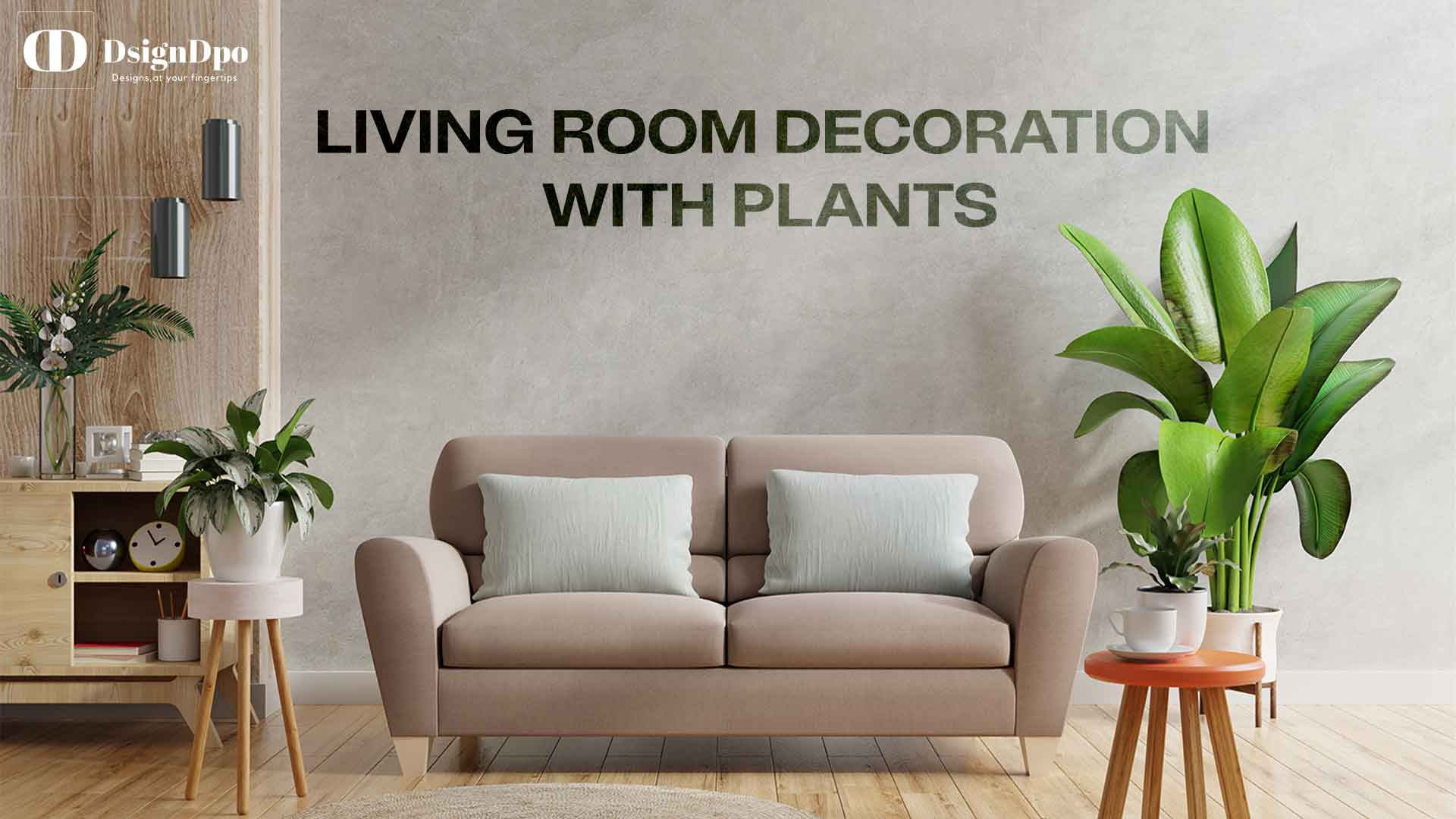 Living Room Decoration With Plants: Types of Plants to Choose & Important Tips
People spend most of their time in the living rooms with family and friends. It is a family place where everyone sits together. Your living room reflects your taste and vision. Decorating a place as complex as your living room is not easy.
The use of a few interior accessories can make up the living place. You can add a few indoor plants in the living room to change the aura of the place. 
Materialistic items would just add avid beauty to the place, but a living room decorated with plants would add to mental and physical hush. Apart from this, none can deny indoor plants' environmental and health benefits. It is known that these plants enhance the air standards and revive the place.
Many studies prove that indoor plants reduce anxiety and bring more optimism and creativity. Room decoration with plants is not a very complex process.
We will provide you with some amazing styles and living room plant decor ideas to maximize the beauty of your space. So hold your pen and get ready to make a note down.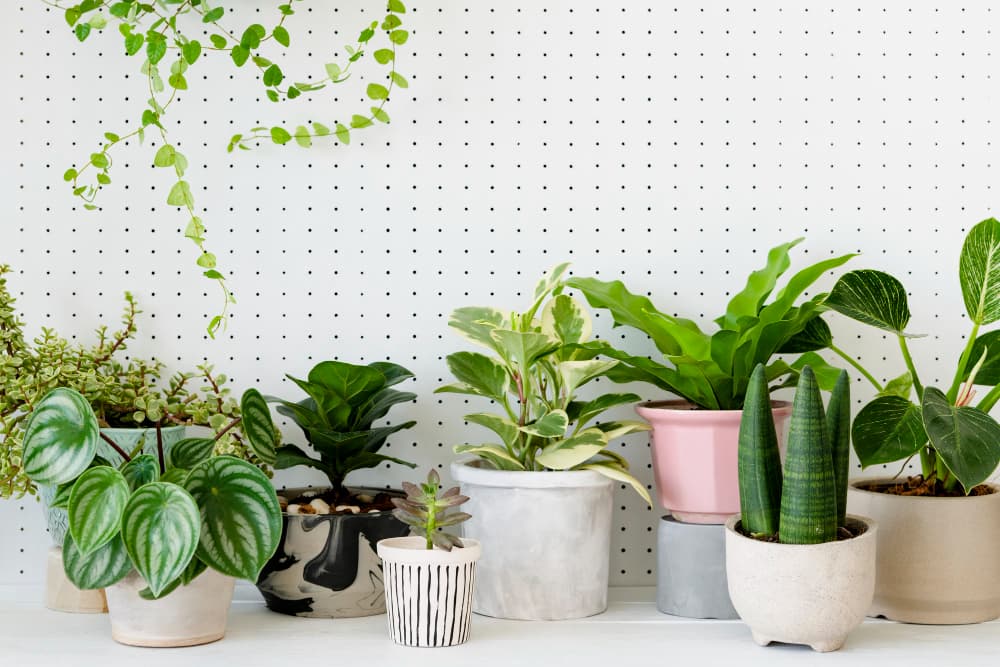 Also Read: How to Arrange Plants In Any Living Room? Your Home Interior Guide
Different Types of Indoor Plants for Living Room
1. Everyday Home Decor Plants
These are the most chosen indoor plants for the living rooms. These include:
Croton
Aloe vera
Lemon-lime
Golden pothos
Snake plant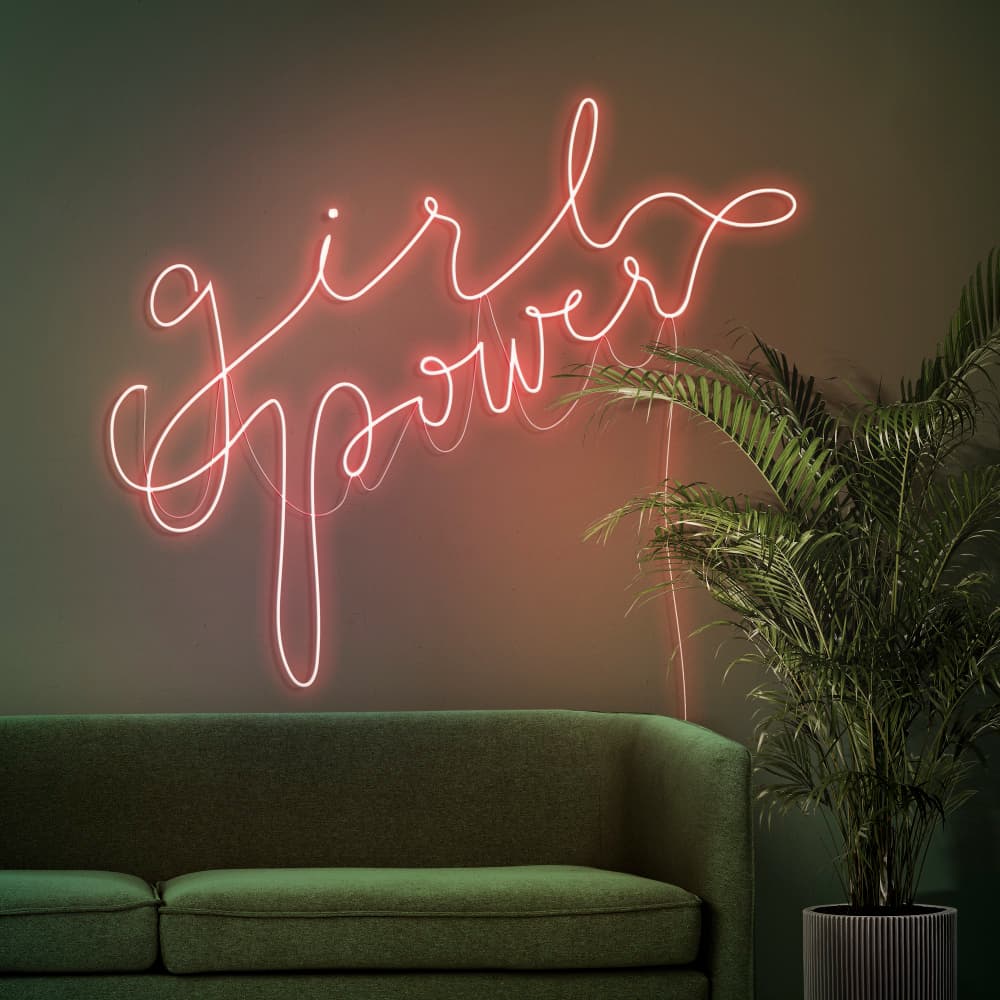 The everyday home decor plants are easy to plant and handle. These require little care and grow well without sunlight. Some plants, like aloe vera, have functional values and useful material.
The snake plant is known to be the best natural air purifier, and its lush-green appearance brings a natural vibe to the place.
2. Indoor Palm Plants
To decorate the living room with indoor plants is undoubtedly a great idea and palms are best suitable for living rooms. They spread the tropical flavor in living rooms and escalate ease in the place.
Indoor palms are more expensive than other indoor plants. They need space to grow, so it is advised to use large pots to plant them.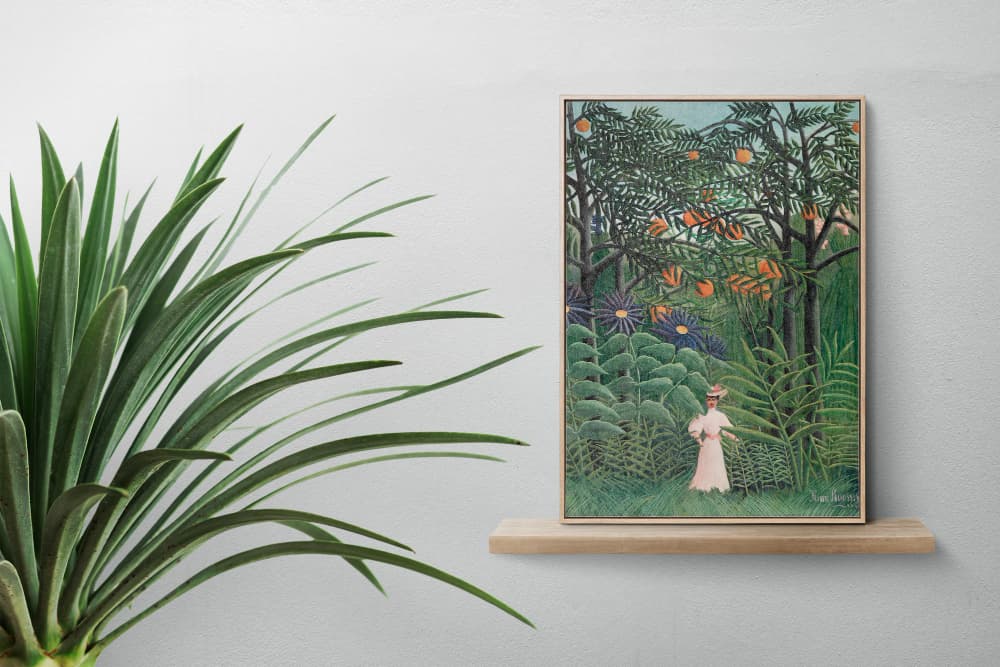 Follow these care tips for your indoor palm plants for better growth:
Plant them in moist and humid climatic conditions.
Avoid direct sunlight on them.
Training and pruning are essential to maintain healthy growth.
Use fertilizer once a year before the winter season.
The four best indoor palm plants are the Chinese fan palm, areca palm, cascade palm, and ponytail palm.
Also read: What is Interior Design? Definition, History, Styles, Principles, Benefits, Elements, Cost
3. Flowering Plants
There is nothing as alluring as watching the buds turning into vibrant flowers. Plants with flowers are the finest option for living room decoration with plants.
Blossom plants energize the place and bring sparkling essence to the living room. The colors of these plants are appealing and turn out to be the room's focal point.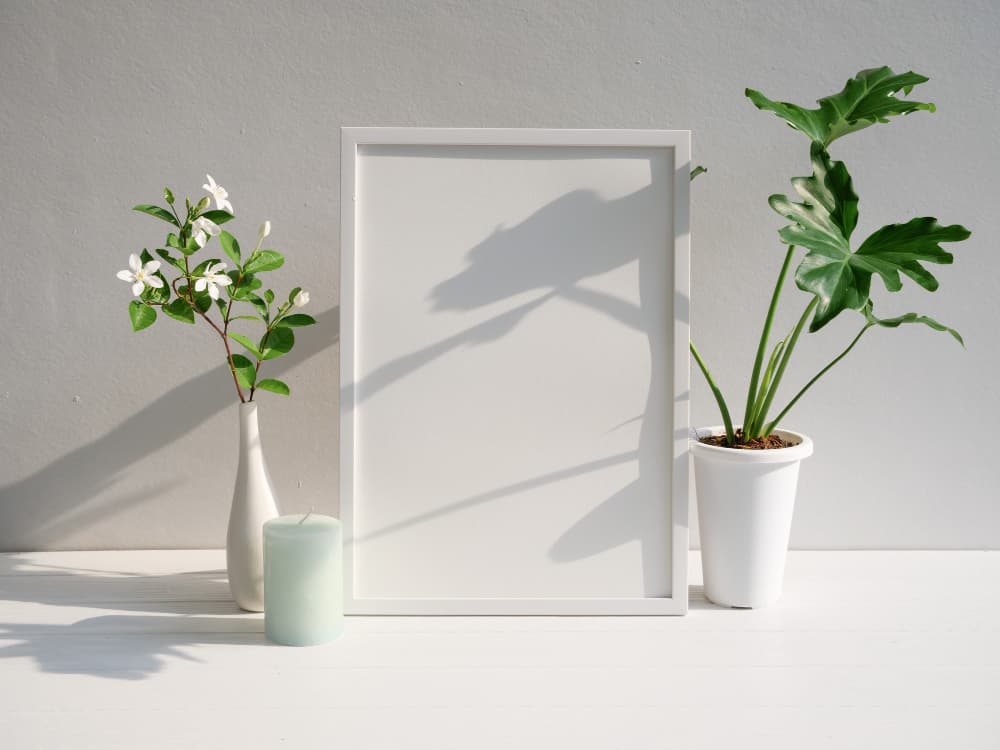 The best indoor flowering plants are:
China rose
Hydrangeas
Moth orchids
White poinsettia
They need regular watering and urea fertilizers twice a year.
4. Desk or Tabletop Plants
Working at a desk for hours is not an easy task. A beautiful and lively plant on your desk would charge your spirit to work for your goals. It sometimes becomes difficult to get close to nature to rejuvenate your lifestyle.
Tabletop plants are a great way to bring nature close to you. You just need to water these plants once in two days.
Some of the best tabletop plants are:
Lonantha Mexican air plant
Devil's ivy green plant
Spider plant
Lucky bamboo
Also read: 7 Best Colors for Bedroom Walls With Reasons & Benefits
5. Trailing Plants
The concept is a part of modern wall plantation and vertical gardening. Trail plants are best for places that do not have plenty of floor space. Plant lovers widely accept it for its unique concept.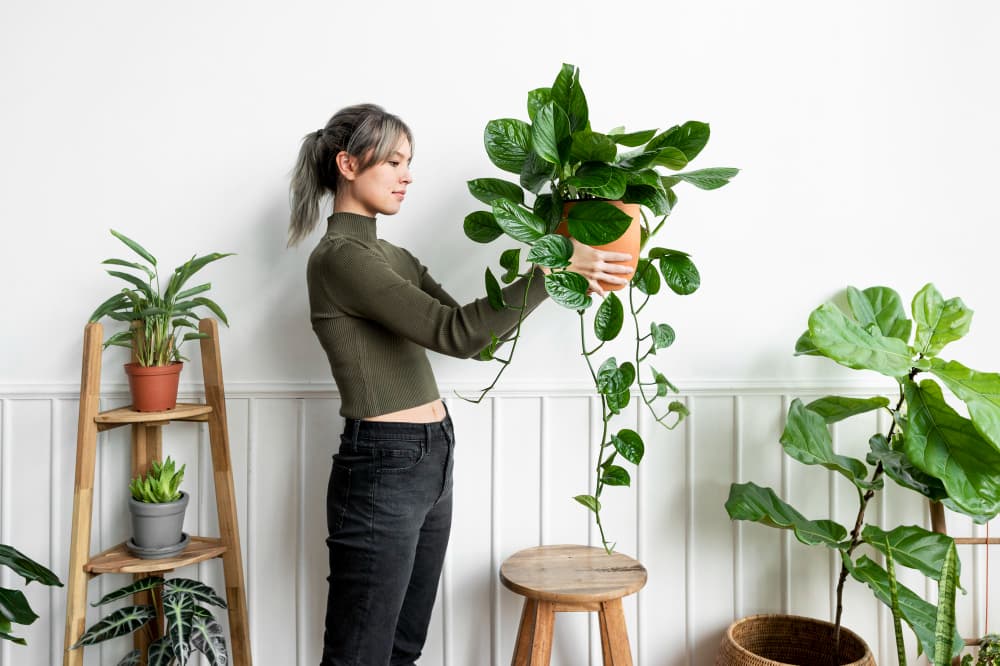 These plants add to the wall color and beautify the overall appearance of the living room. Home decor with plants becomes more fascinating with these new concepts.
Do not hang the plant in a dark and damp location. They need sufficient sunlight and air for proper growth. You can hang them on the windows and door sides. 
The most preferred indoor trailing plants are bird's nest, golden pothos, prayer plant, and the string of dolphins.
Tips on How to Take Care of Indoor Plants
The indoor plants need little attention for proper growth, but following these points is essential for better results:
Always check the moisture levels
Check for weeds and infest
Properly mix fertilizers in the soil
Keep away from continuous sunlight
Do not prick the green leaves.
Ideas and Tricks for Living Room Decoration With Plants
Only keeping the plants in your living room won't make it much more appealing. Other factors like shape, color, texture, and pot location play a major role.
Here are a few pieces of advice you can follow to make indoor planting more appealing:
Decore and Personalize Pots
Create your texture and pattern by coloring the pots by yourself. Use water-based colors and beautiful laces to beautify your pots. Try to color your pots with wall color-matching shades.
Focus on Empty Corners
People mostly ignore the corners of their living rooms. They can bring out a big change in the room's interiors.
The snake plant and indoor palms are the best options to enhance corner room decor with plants. Their busy appearance will make the place look spacious and more attractive.
Short Height Tables and Stands
Using an alluring plant stand is always advised to protect the floor from water marks and mud. This will provide proper aeration to plant roots and thus promote better growth.
Also read: Home Interior Design With Low Budget in India (8 Best Ideas)
Conclusion:
Living room decoration with indoor plants is a fun task, and you must be doing it the right way. Look around on Pinterest for indoor plant placement ideas to get a better picture. This article on how to decorate a living room with plants is enough to clear all your doubts regarding the topic. Try to use all the tips mentioned above to beautify your living space.