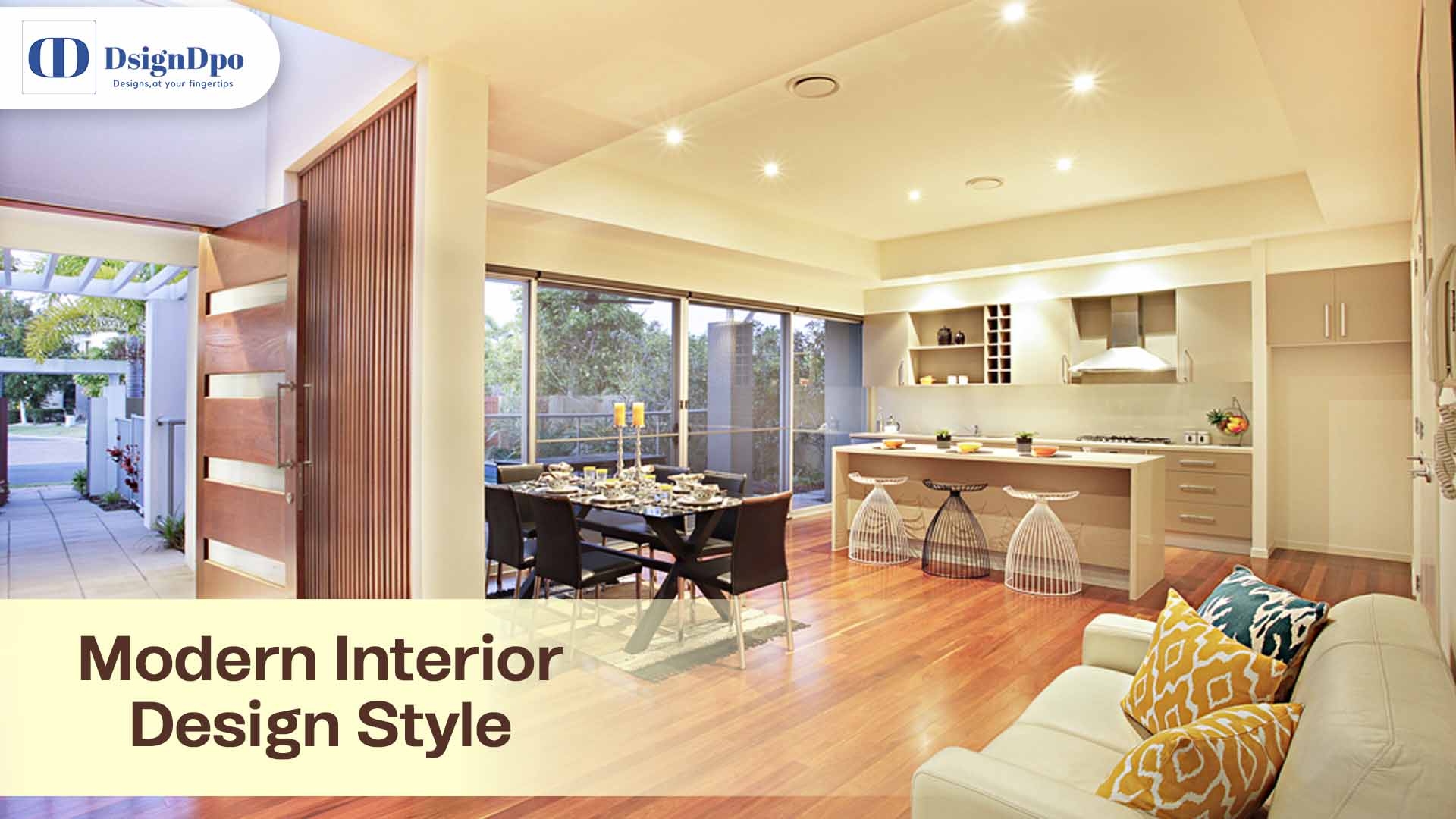 Complete Guide to Modern Interior Design: Components & Style
Home is your most precious personal belonging. You feel most comfortable while you are at your home. Understanding the concept of interior design is essential before planning it for your home.
Modern interior designs are charming yet practical. It is great how they mix beauty with functionality. Modern interior design found its way in the mid of 20th century. The industrial revolution led a movement of people to cities, creating this calm and modest interior style.
To make things simple and clear, we have bought this article that defines modern interior design, its history, elements, tips, and modern interiors for different home parts. The idea behind modern home interior design is to fabricate the perfect balance between the practicality and charm of the place.
What is Modern Interior Design Style?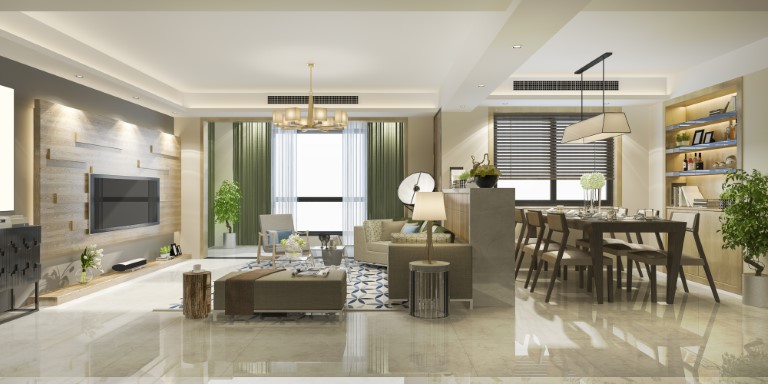 The term modern itself is insufficient to describe the interior style. Modern does not mean the currently famous or trending interior design. Many people confuse modern interior styles with contemporary interior styles. In fact, modern interior design is composed of fixed elements that have been unchanged for years.
The design had roots in the mid-19th century when people started moving to towns for work. One can easily figure out the modern interior design through monochrome shades, clean symmetry, minimalist look, and its closeness to nature. The interior design generally comprises only a single color scheme that makes it look elegant.
Also read: What is The Importance And Role of Interior Design
History of Modern Interior Design
Modernism was the phase of the industrial revolution when the rural population shifted to urban areas. Germanic and Scandinavian interior design styles are the major inspirations and precursors for modern interior design.
Creation of Modern Interior Designs:
In the early 19th century, the Bauhaus school of interior in Germany noted the importance of beautiful yet practical interior design. They bought elements of Germanic and Scandinavian interiors and blended them with minimalism.
Transitional Phase:
Later in the 1920s, interior designers used victorian elements with modern interiors to make it more classy. With advancements in technology and building material, steel has become an important part of the modern interior. More symmetrical designs, clean-edged furniture, monochrome wall colors, and painting got their place in modern interior design.
Rise of New Interior Styles:
Traditional change and globalization in the post-world war II era, people lost interest in minimalistic design. Interior designers bought new elements to modern interior designs to create more decorative styles. This interior style has long been an inspiration for contemporary interior style.
Also read: What Are The Principles of Interior Design?
What Are the Core Elements & Characteristics of Modern Interior Design?
Elements for modern interior design are elegant yet simple. If you want to embrace your home with modern interior design then knowing about its elements is important . Here are the 6 essential modern interior design elements.
Simple and Clean:
This interior design promotes the simplistic approach. The idea is to have elegant furniture, colors, and flooring. Modern interior design inherited this feature from German and Scandinavian interior design.
Minimalism:
The place is kept spacious, and the use of any unwanted accessories or decoratives is avoided. The concept is to be more functional than fancy.
Monochromatic Shades and Texture:
The modern interior design promotes the use of monochromatic color shades like grey, white, and white. These simple color schemes look decent and make the area look more spacious.
Open Space:
More space brings more practicality and usability for the occupants. Constructing walls and structures that are of no use yet occupy space is not promoted. The simple wooden structure or light furniture item creates divisions in the home.
An open area provides good natural lighting that spreads brightness across the home without disruption.
Practical furniture:
Modern interior design emphasizes functional furniture that has some use in the house. The furniture is perfectly symmetrical and occupies a decent amount of space. Most furniture is made of natural elements like wood, metals, and natural fabrics.
Eco-Friendly:
The use of wood and metals that lack synthetic components and chemical-free fabrics are used. This improves sustainability and also provides more healthy living conditions for inhabitants.
Also read: Full History of Interior Design With Timeline
Color Schemes for Modern Interior Design Style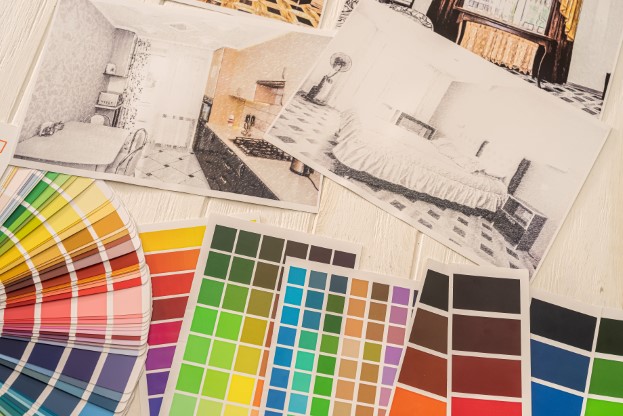 Modern interior design promotes the use of simpler monochrome color tones. Color schemes can certainly change the outlook of interior design. Perfect patterns would enhance the look of the area. Color schemes are a great way to bring newness to your home.
Moreover, relaxing and comfortable tones are best for modern interior designs. Here we will look at some of the best modern interior design color schemes.
Grey + Sand + Blue
This sophisticated shade is one of the most preferred shades for modern interior design. They look simple and elegant, giving a natural vibe of openness. You can use grey color for walls, sand color for furniture and blue color for fabrics.
White + Emerald
The pure shade of white color on the walls will turn the place into a more relaxing one. Emerald furniture and fabrics look royal and give noble feel.
Black + Grey
Black is a universal shade that, in proper proportion, will maximize the aura of the place. The neutrality of the grey color brings modesty to the house. A combination of black and grey colors is perfect for modern interior design.
Baby Pink + Grey
These shades are perfect for large spaces, the nostalgic character of pink color will bring energy to the home. The grey shade brings out the minimalist character of the modern interior design. You can paint a single wall in baby pink color and the remaining portion with grey color.
Black + white
For years, these have been the most preferred option for modern interior design. The classic color scheme can turn any place into perfect beauty. Also, these patterns will match the symmetrical element of interior design.
Also read: What is the Interior Design Cost in India?
Modern Interior Design Materials
Materials required during the interior design process are based on the themes. Choose wisely, as this will be a forever part of your home. We will help you sort a few essential modern interior design materials.
Wood:
It is the most important component of modern interior design. Wood in the modern interior has a very diversified usage. Wooden work looks classy, and with years it looks even more appealing. As modern interior design promotes the use of natural elements, hence wood is a great option.
Metal:
Metalwork looks aesthetic in the interior design. They are strong and add appeal to your house. By metalwork, we do not mean heavy and space-consuming interior. Metal here is used for creating design and furniture.
Fabrics:
Soothing natural fabrics like cotton, jute, silk, and husk are great for modern interior design.
Paint and wallpapers:
Choose a minimalist neutral color that creates a simple yet elegant appearance in your house. You will have to select different color shades for different areas in the house. People who want more innovative designs can go with wallpapers.
Granite and Marble:
These stones are natural and possess a beautiful natural appearance. The best part about them is their strength, once fixed, will remain a part of your home for many years. Wisely choose designs as it is very difficult to change them frequently.
Also read: 7 Best Colors for Bedroom Walls With Reasons & Benefits
Top Modern Interior Design Tips
It's important to have a prior understanding of ideas that can embrace the beauty of your home. There are a few modern interior design ideas that will change the way your home look. Few aesthetic characters blended with the classical look of modern interior design transform the vibes of home. Let's look at these tips in detail.
Art and Paintings:
Earlier, designers and people rejected the idea of adding art and painting to modern interior designs. But with the transition in culture and society, things have changed now. A beautiful painting on a plain white wall will be the focal point in that space. Similarly, beautiful simple handicrafts will add a pinch of charm to your house.
Designer Furniture:
Classical furniture that occupies less space but looks graceful is another option to enhance the looks. Select furniture with perfect lines and minimal colors so that they mix in the interior properly.
Big Windows:
Modern interior design is famous for its openness and spacious character. Adding a few large-sized windows that provide better cross ventilation. These windows will increase cross-ventilation and provide better natural lighting in the house.
Plan Before You Implement:
Create a blueprint of all your ideas and plans. Once done, you will get information about the extra and required elements in the design.
Discuss things with your interior designers and then finalize the plan.
Use Mirror and Glass:
Glass and mirrors make the place look bigger and more spacious. Also, they add a sense of elegance to the place. They also improve lighting in the home and helps the place look brighter.
Also read: Role & Importance of Colors in Interior Design.
How to Plan and Map Modern Interior Design in Home?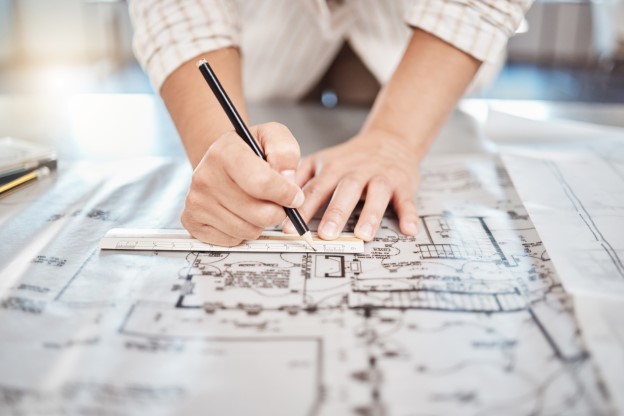 All elements and objects in the interior should serve a definitive purpose. It is possible to convert your existing interior design into a perfect modern one. Adding and integrating a few elements with your existing place will transform it.
Here are a few ticks to help you plan modern interior design in your home.
Select your Theme:
To regulate and modify your current interior design, you will have to select a theme for it. Suppose your existing interior design is rustic. Then you have to add modern design elements. In the same way, you will have to eliminate all the unrequired rustic elements that disrupt the new theme.
There is no doubt that you can start from scratch, but that will cost you a lot. Instead, using the essential elements from the old theme and adding the required ones will save you money.
Choose the Floorings:
The majority of the area in modern interior design is open. It is important to plan your flooring as it will be one of the focal points in the interior. You can select from various wooden flooring, marble, and tiles available in the market. Remember not to buy more fancy and vibrant flooring as they do not go well with modern interior design.
Flooring should be in straight lines, and any curves should be avoided. If possible, select flooring with a shiny and smooth finish. If you are tight on budget, opt for vinyl and synthetic flooring options.
Finalize the Color Shades:
Neutral shades like Grey, White and black are preferred for modern interior designs. To some people, these colors may look dull. In such cases, people add a touch of vibrant colors to their fabrics and furniture.
You can also plan textured walls with better design to enhance the appearance. Add a fish tank, creative bed sheets, and curtains to create more uniqueness.
Go for Modern Lightings:
Modern interior designs for home are famous for their natural lighting element. If your place lacks natural lighting, you can use modern lighting solutions. Go for simplistic designs and shapes that match other elements.
You can choose from LED lighting, rope lights, rail and track lights, chandeliers, and other modern lights. You can also use pendant lights to focus on particular decoratives and other paintings.
Choose Favourable Furniture:
Switch your furniture with more symmetrical and edged furniture. Do not go for heavy furniture but buy ones that bring usability. Like a bed with a storage compartment, a dining table with drawers, and a T.V. compartment with drawers. Modern interior design promotes the idea of minimalism. Go for furniture that has less design and colors.
Also read: Living Room Decoration With Plants: Types of Plants to Choose & Important Tips
Modern Interior Design Styles for Bedrooms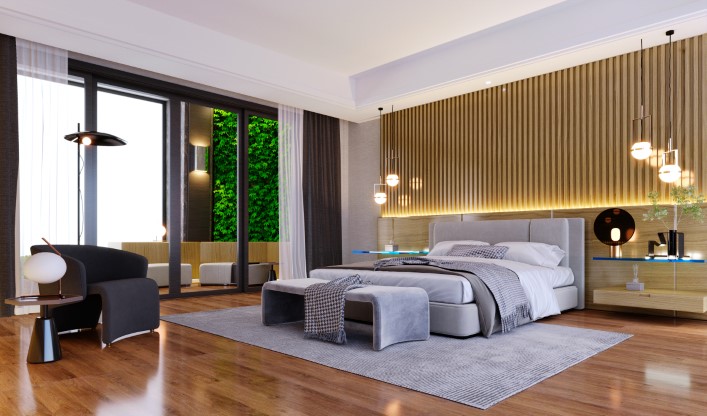 Modern interior design is the most favorable for people who put luxury and simplicity together. The design provides a spacious surroundings, with light furniture and neutral colors. It aims to create a comfortable and soothing vibe in the bedroom.
Shaping up your modern bedroom design:
Considering the functionality of the things you want in your bedroom is essential. Designers should try to make ample use of the space and use minimal accessories, furniture, and other unwanted elements. Natural lighting is another essential element for modern bedroom design. Keep in mind all these things while making a blueprint of your modern bedroom interior. The goal is to create the best design without ignoring functionality and productivity.
Choose Right Furniture for Modern Bedroom:
Select light furniture that occupies less space. Furniture should not block natural lighting and promote the idea of functionality. Choose furniture items made from more natural elements like wood, and natural fibers, with neutral colors. If possible, buy furniture that has storage space in them. The furniture should be symmetrical and straight-lined.
Selection of Colour Shades:
Colour is the major factor that can transform the look and aura of your bedroom design. The shades should be comfortable enough to support a good time in the bedroom. These colors should also comply with the shades of modern interior designs. Wall paint should match the texture and shade of furniture and other interior and decorative items in the room. Owners can also plan textured walls and think of using wallpapers for their bedrooms.
Also read: Top 10 Most Popular Types of Interior Design Styles (With Components & Features)
Living Room Modern Interior Design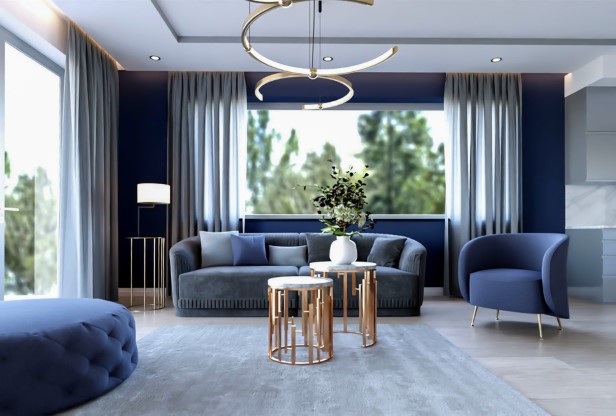 People create their most memorable moments and spend quality time in their living rooms. Your living room should possess practicality along with beauty. Creating such a modern design living room is not a difficult task. We will share some tips to help you plan your perfect modern interior design for the living room.
Indoor Plantation
Gone are the days when people were amused by heavy decor and gadgets in the living room. Now indoor plants have made their spot in your living rooms. Beautify your living room with classical pots and lush plants. They spread positivity and also support your help while bringing an appeal to your living room.
Go for Productive Seating Ideas
Fill in the extra space around windows and near your sofa set with wooden and metallic seaters. They look elegant and have functionality in your living room. They make the place look more natural. Their small and compact design does not interrupt the space and visual appearance of the living room.
Bring in the Mirrors
Mirrors and glass are great ways to add some modern glam to your living room. They make the place cheerful and ideal for occasions and celebrations. Mirrors support lighting and make the place look more spacious and cozy.
Add Eye-catchy Arts
People usually think that adding painting and handicrafts to their modern interior design will disrupt its core idea. However, this concept is not true. The idea does not fully occupy the space. Bringing a flitch of art will bring some alluring sight to the modern living room. Choose simple art that has neutral shades and is not electrifying.
Also read: Top 10 Latest Interior Design Trends in India for 2023-24
Kitchen With Modern Interior Design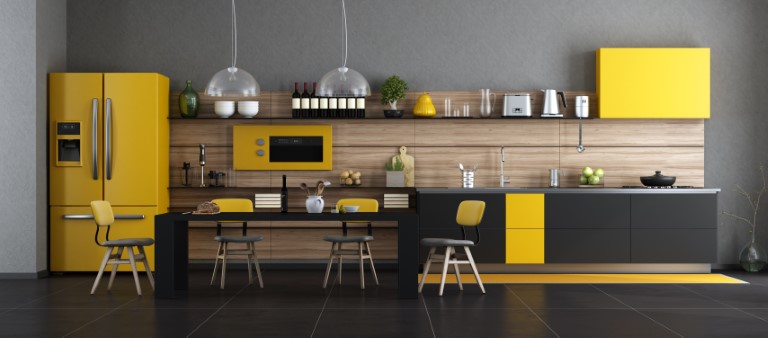 Kitchens has a significant role in Indian houses. Interior designers decide on the style of kitchen based on their size. The kitchen should have ample storage space and, along with looks, serve the core purpose of cooking.
Finding ideas for your new kitchen? We are here to help you with the best modern interior designs for your kitchen.
Clean Handleless Drawers:
Modern interior design promotes clean and simple furniture design. Handleless drawers match the idea of modern interiors and are more convenient than conventional drawers. They feel smooth and clean.
Cream and White Design:
Want a clean and elegant look for your kitchen? Then these white and creamy shades are the answer. Their clean and elegant look is perfect for an elegant kitchen design. They make the kitchen look spacious and increase the brightness as well. Added with grey-colored tiles behind the cooking shelve, these shades amplify the aura of space.
Neutral Colors:
Design your kitchen walls, furniture, and platform with neutral shades like grey, black and white color. You can also use two neutral shade patterns. Use shiny textured paints or wallpapers that look smooth and do not mess with lighting in the kitchen.
Sunmaica patterns with white or grey shades that look classy are good for furniture. These patterns and shades will boost the mood so that you enjoy the cooking.
Wooden furniture and accessories:
Using wood for your kitchen interior is a great idea. Use solid wood for the furniture, as its raw appearance make the kitchen look exclusive and stylish. Added with warm white LED lighting will enhance the appearance by maximum level. You can also ask the carpenter to polish the outer surface of kitchen furniture for a lustrous appearance.
Also read: Top 10 Types of Ceiling Lights for Home (With Cost & Purpose)
Modern Interior Designs FAQs
What is the meaning of modern interior design style?
Modern interior design is an interior design style invented in the early 19th century. The basic charters of this design are minimalism, perfect symmetry, straight line, neutral color, and natural lighting. German and Scandanavian interiors are the base for modern interior design.
What is the difference between modern and contemporary interior design styles?
| | |
| --- | --- |
| Modern Interior Design | Contemporary Interior Design |
| There are fixed elements and regulations. | No fixed elements and pattern |
| Modern interior design can be a contemporary interior design. | Contemporary interior design cannot be a modern interior design. |
| Modern interior design was invented in the early 90s. | Contemporary interior design was founded in the 1970s. |
Conclusion
Modern interior designs are best for people who praise simplicity and elegance. This design greatly emphasizes functionality, practicality, simplicity, and eco-friendly. The aim of modern interior design is to build grace and positivity in the house.
Avoid more mixing and any modification. However, being a bit flexible is not bad. Use all the tips and information provided above to build your dream home.