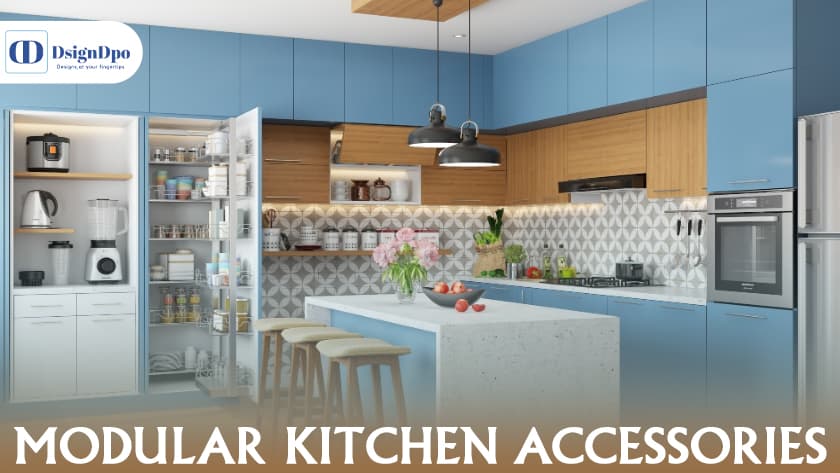 10 Must-Have Modular Kitchen Accessories (Purposeful)
What do most women need in their dream house? Yes, it's a stunning modular kitchen that is fully functional and also gives a sleek appearance. And do you know the secret of a thoughtful contemporary kitchen? Well, a kitchen full of modular kitchen accessories. Isn't that great? Gone are the days of those desolate-looking empty spaces in the kitchen; modular kitchen accessories make your cooking room look different.
The significant benefit of these accessories is that they increase storage capacity, are incredibly robust, rust-resistant, and made of stainless steel. Here is the list of the most popular modular kitchen accessories, and select the most appropriate ones for your kitchen.
Modular Kitchen Accessories List
1. Tall Crockery Unit
Need help with a cluttered or disorganised pantry? Well, a pull-out pantry can be a game-changing addition to your modular kitchen. Tall units can definitely be a part of your modular kitchen accessories list. As an essential kitchen storage accessory, storage should be copious in any kitchen.
Racks and shelves are necessary for everyday cooking, and storage for kitchen utensils is a must. This versatile accessory utilises vertical space and works as a pantry, ideal storage for storing all your regular food supplies. Tall units are available in various designs; they come with slim storage on the doors and internal pull-out systems, which make it easy to access the storage.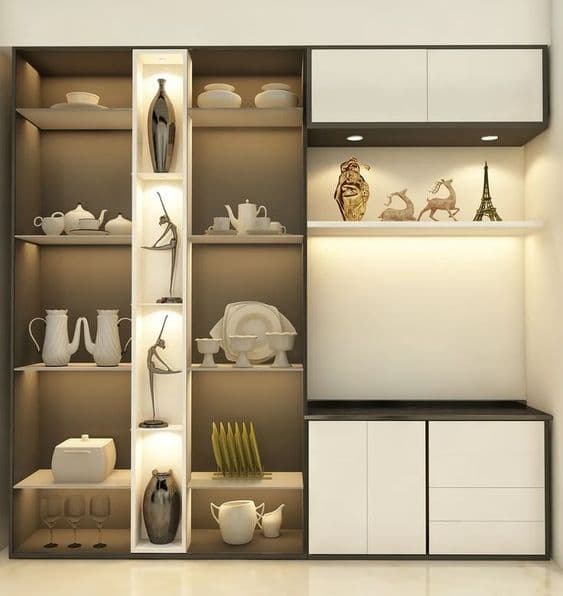 Also Read: Full History of Interior Design With Timeline
2. Hydraulic Door Cabinets
Thanks to the advent of technology, lift-up cabinets are a blessing. They require minimum effort to open and close the cabinets. Hydraulic door cabinets are among the must-have modular kitchen additions making the workstation safer, unlike an open-door cabinet creating the danger of harm when the head unintentionally crashes into the sharp edges of the door.  Hydraulic door cabinets make more effortless movement around the kitchen, working risk-free.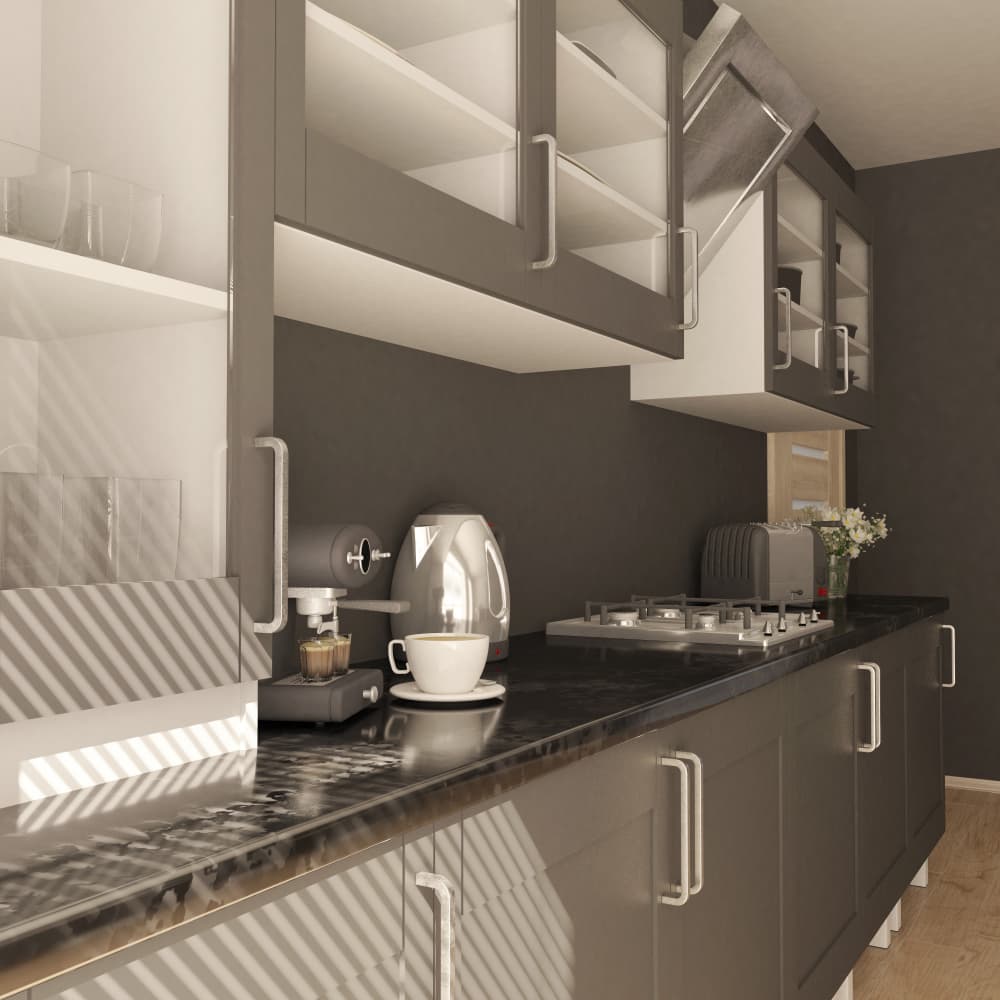 3. Wicker Basket Drawers
Wicker baskets are a versatile and stylish storage solution for any room, including the kitchen. In a partially modular kitchen, you generally have a basket or tray to keep a daily stock of vegetables and fruits. One of the main benefits of wicker baskets is their natural, rustic aesthetic.
For modular kitchen drawer designs, pull-out basket drawers are worth investing in since they glide effortlessly, providing greater access to goods kept towards the rear of a cabinet. These fittings for a modular kitchen are durable and easy to clean.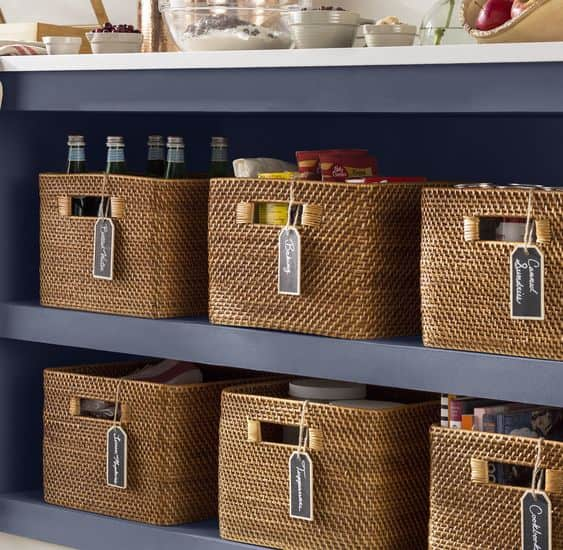 4. Cutlery Organiser
A kitchen accessories list is usually incomplete without cutlery trays. Searching for a spoon/ fork becomes chaotic when whipping meals quickly if silverware is not placed carefully. So a drawer designated for cutlery storage is one of the must-have accessories.
It makes things easier, whether putting the silverware away after washing it or looking for a particular piece when needed. They may have individual compartments or slots for each type of cutlery or a series of horizontal slots that allow cutlery to be placed in an organised manner.
Also Read: What Are Different Types of Kitchen Layouts?
5. Corner Units
Corner spaces in kitchens typically go unused because they are hard to reach. Convert the inaccessible corners of L-shaped and U-shaped kitchens into functional and efficient areas using corner units—a wide range of modular kitchen corner baskets and trays that adjust to the needs.
Corner units are specifically designed to slide in and out, enabling storage and access for the usually unreachable corners. These clever, easy-access units are a great addition to Indian kitchens, especially smaller ones.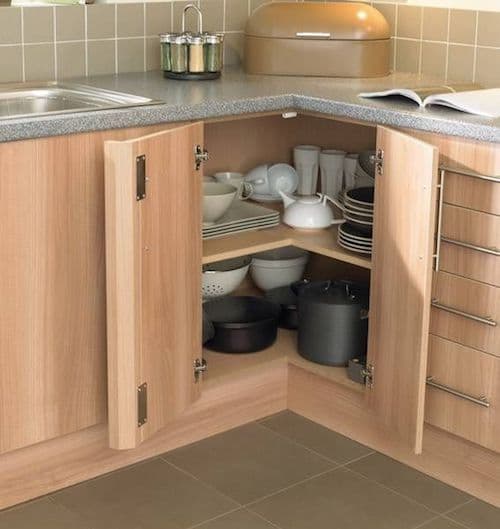 6. Bottle Racks Or Bottle Pull Outs
Bottle racks are innovative modular kitchen accessories that help use dead spaces. There's no denying that the convenience of a bottle kitchen rack is so beneficial, specifically near the stove. If you constantly complain about spice bottles, this kitchen unit can help you.
Bottle racks allow quick access to spices, vinegar, oil, and other ingredients while cooking without taking up counter space.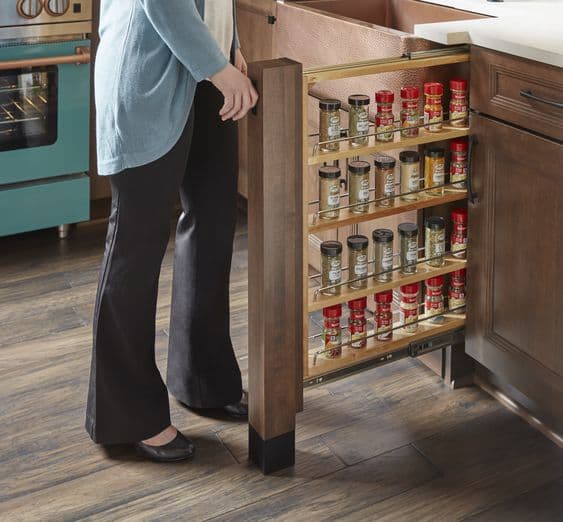 7. Under-Sink Storage Cabinets
An under-sink cabinet with basket storage for cleaning basics such as dishwashing detergent is often ignored. While not very common, under-sink units can help keep your supplies within easy reach when washing your utensils.
In addition, you need not keep your brushes and soap away from the sink. A designated area for these objects helps tidy the sink and surroundings.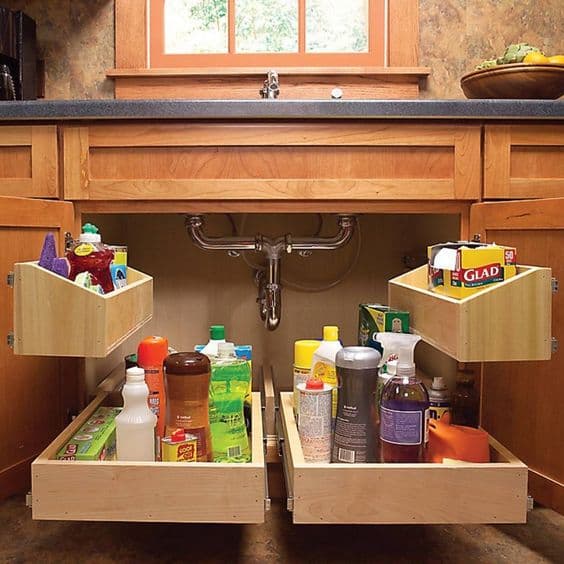 Also Read: Modular Kitchen Price in India
8. Tandem Drawers
If you're considering upgrading your kitchen storage, tandem drawers are worth considering. While numerous modular kitchen basket kinds pull out, a tandem drawer with layers within a drawer is another effective form.
For example, the bottom layer of the drawer can be used to stack plates or glasses, while the upper tier can be used to store cutlery organised manner. Utilising every inch of vertical space maximises the amount of space in drawers.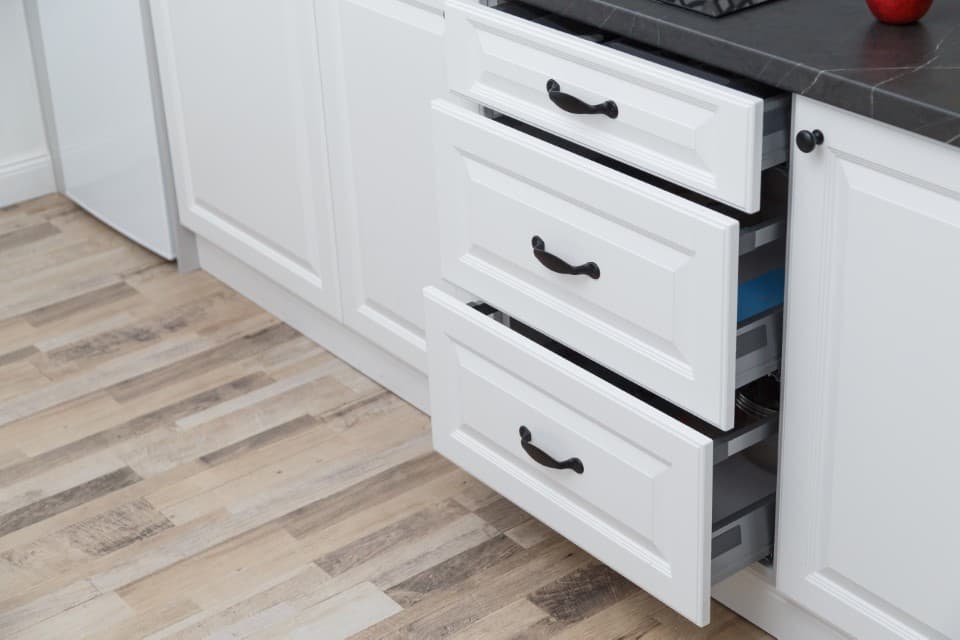 9. Rolling Up Shutters
Electrical appliances and kitchen gadgets are essential in today's kitchens since they help to streamline labour procedures. When they aren't in use, though, they must be stored in a well-organised manner.
Installing shelves with a specific space for each device gives a solution for people enjoying collecting kitchen gadgets. Still, open shelves collect dust and are exposed to steam, spills, and oil splashes in the kitchen. Installing a rolling-up shutter that can be pulled to cover the appliances and protect them from dirt and filth is preferable.
Also Read: Top 9 Blue Two-Colour Combinations for Bedroom Walls in 2023
10. Waste Bins
A pull-out unit provides a neater approach to dividing and storing trash and is the must-have modular kitchen addition. This unit is usually under-sink, allowing the waste bin to swing out as the door opens.
A pull-out chopping board under the counter with a slot through which trash is immediately placed into the dust bin in the drawers below is found in a modular kitchen's more advanced versions of the waste bin.
Conclusion
Kitchens are practical rooms used regularly and must be built differently than other areas of your house. Furthermore, the accessories for modular kitchens are as essential as the cabinets or countertops in the design process. They are most important since they influence how effortlessly you can utilise your kitchen.
Now that you have a better understanding of all the modular kitchen accessories, you can make an informed decision by equipping your kitchen with everything it needs to be as functional as you require.