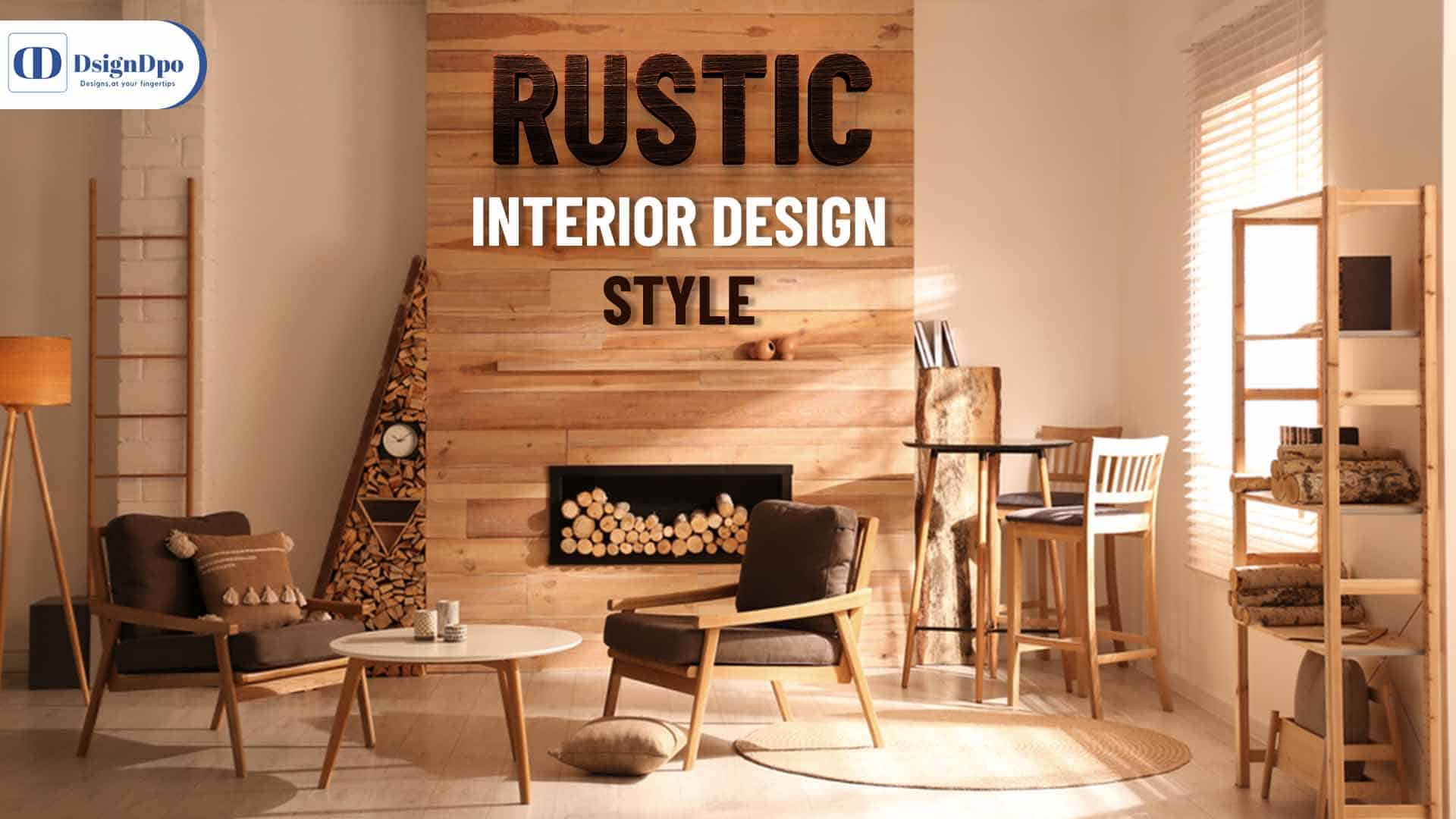 Guide to Rustic Interior Design Style
Rustic decor is the ideal blend of soothing, fuss-free design, resulting in a warm rustic atmosphere. Natural materials serve as the foundation for producing outstanding rustic interior design concepts highlighting natural materials' inherent beauty. Rustic farmhouse decor creates a relaxing and organic atmosphere, and rustic interior design ideas serve a dual function.
Today, the demand for rustic interiors is at its peak, and more home-owners are adopting this style for their places. Rustic design has a place in every location, whether you want to add rustic beauty to your home or create a cabin escape. Check out our guide below to learn how to add harmony and charm to a rustic interior at home. Let's get started!
History of Rustic Interior Design Style
The appearance of early nineteenth-century homesteader dwellings inspires rustic-style features. These residences aimed to provide warm, inviting areas where occupants might unwind after long, exhausting days of hard labor.
Modern rustic designs have taken this aesthetic into the more complicated yet homey territory. Reclaimed wood features, neutral paint palettes, and other interesting rustic design aesthetics have defined the modern rustic design aesthetic.
The combination of ageless and traditional has assured that the design option remains quite popular among home-owners even in 2022. To properly unleash this fashionable look, however, you must include superb rustic décor into the interior design of your house. It is all about the modern rustic interior design style every business owner should be well-versed with.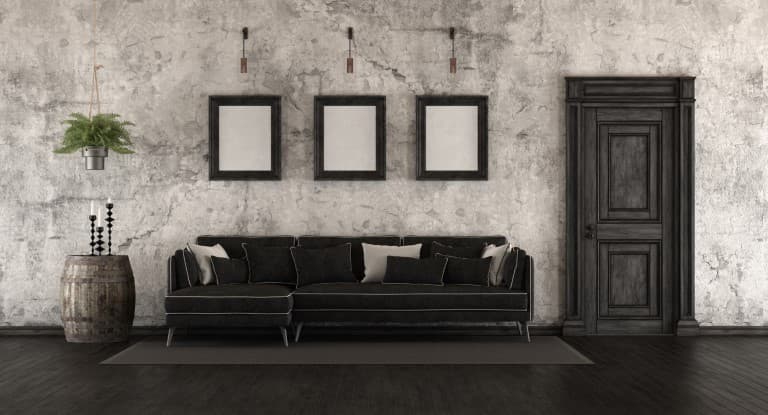 Also Read: Full History of Interior Design With Timeline
What Is Rustic Interior Design?
The rustic interior design style is characterized by a raw, rustic, and weathered aesthetic. The genre is broad and includes several theme variants, such as Tuscan, cottage, and modern rustic. Whatever the variation, the rustic design emphasizes raw, natural beauty.
The design evolved naturally and harkened to when individuals reused goods. Most items were sourced directly from the ground and hence had a naturally organic and rustic appearance.
Rustic theme interior design may appear weighty and gloomy. However, a more contemporary rustic design with a fresh and airy appearance has arisen. A rustic color palette contains basic and earthy colors balancing white and neutral colors to soften the area.
Natural materials such as wood, tile, or stone produce the most realistic effect in terms of flooring. You may add texture to the space by using textured area rugs made of natural materials like sisal or jute.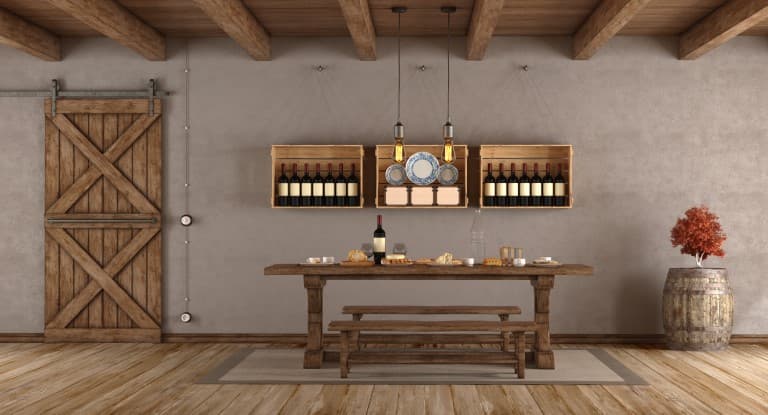 Also Read: Wallpaper vs Paint Difference: Which is Better for Indian Homes?
Major Characteristics of Modern Rustic Interior Design
Want to know, what are the major rustic interior design characteristics? Refer to the pointers highlighted below.
Natural materials such as wood and stone are used extensively in rustic homes in construction and as decorative elements on the walls.
Rustic style décor is generally damaged and made from natural and practical elements such as wood, stone, and metal.
Rustic furniture and furnishings are never sold in sets. Instead, items are combined and matched to create an eclectic or accumulated-over-time look.
Rustic furniture is typically constructed of wood and features rough edges or blemishes similar to natural ones.
Hues for rustic houses and interiors are inspired by nature and contain a variety of warm neutrals and deeper colors such as reds and greens.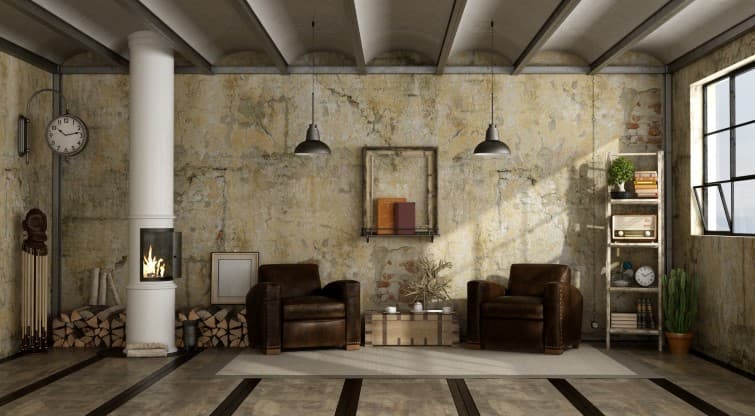 Also Read: Top 20 Types of Beds for Home With Sizes
5 Key Elements of Modern Rustic Interior Design 
Element #1 – Colors
Natural colors are ideal for a contemporary rustic interior design decor. An earthy, nature-inspired color palette is often translated into neutral and quiet tones. There might also be bold pops. Greens and browns are not the only colors seen in nature; there are also reds and blues.
When in doubt, use a subdued hue to create a cozy environment. The finest colors will help you add a complete rustic touch to your space.
Element #2 – Natural Elements
Natural elements are crucial and frequently the distinguishing aspect of a rustic house interior and are not restricted to furniture. Indeed, components like stone, wood, leather, and canvas may be used to create a rustic style.
The rawer, the better. Furthermore, raw items add an earthy vibe to the room. So, while thinking of unique rustic interior design styles, do not forget the natural elements.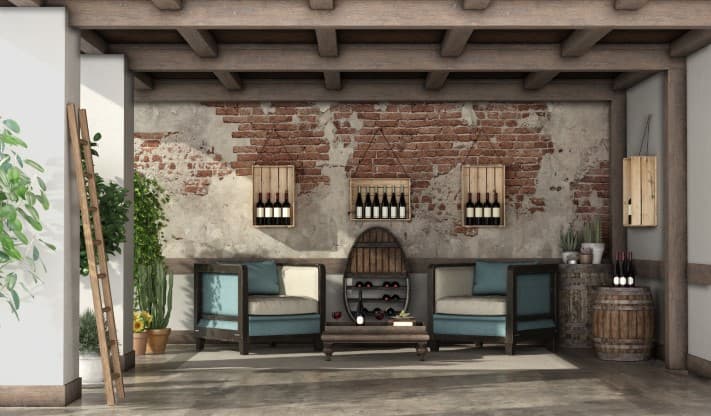 Element #3 – Furniture
Raw wood frames, carved stone, and textured linen cushions are furniture best suited to rustic home décor. In rustic interior design, there is also a strong emphasis on reuse and re-purposing. As a result, you can go for weathered tables and couches that are gorgeously decorative are popular.
However, the items that endure the longest are the most durable, functional, and simple or comfortable to use. Using such furniture for a modern rustic interior design bedroom and living room will do wonders.
Element #4 – Rustic Structure & Architectural Features
A rustic interior's construction and structure may be equally as important as its furnishings and décor. Wood floors with visible grain, paneled walls, stone walls, and a fireplace may all give a lot of character and charm. So, when you think of rustic interior design ideas, including the rustic structure and features works the best.
If you have any of these characteristics, you may draw attention to them using lighting and tastefully placed décor.
Element #5 – Handmade & Artisanal
Sticking to natural and organic elements, handcrafted and one-of-a-kind things work well in a rustic atmosphere. These things are all the more appropriate since artisans and craftsmen cherish the material they specialize in.
Furthermore, organic touches may be added to any design style with clay pots, mirror frames, and soft furniture. What else could add an amazing rustic theme interior design than the handmade and artisanal art pieces? So, try these ideas.
These are the 5 crucial elements of rustic theme interior design homeowners can consider adding a rustic touch to their place. Now that you are well versed with the rustic interior design characteristics and elements keep them in mind the next time you plan for interior designing. 
Also Read: 7 Crucial Elements Of Interior Design
Summing Up!!!
You may finally create the right rustic style in your house in 2022 if you follow the ideas and information mentioned in this guide. You'll be the talk of the town, and your home will become a new favorite hangout for your friends and family.
Going with rustic interior design ideas in your interior design is highly advised, especially for people who just love to host. For a better assistance, you can get in touch with the professionals.