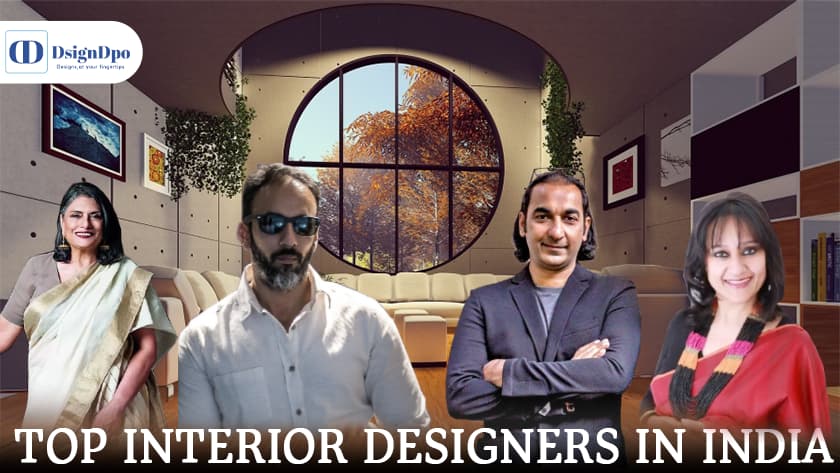 Top 10 Renowned Interior Designers In India 2023
Are you trying to find the top interior designers in India? You are at the right place to explore and understand the profiles of India's most fabulous Interior designers.
Interior design is the most dynamic and growing industry in India. Many people in India have become conscious of the aesthetic of their place and crave the best when it comes to home decor.
Good design is considered to be a fusion of latest trends and functionality styles and functions.
To give life to your outdated and boring abode, here is a list of the top 10 Interior Designers in India. They are trusted for pushing boundaries to take interior designs to a new level.
1. Sunita Kohli
Amongst the leading names in interior design is Sunita Kohli. She is a research-based interior designer and President of K2INDIA. She is known for her work in historical interior architecture and architecture restoration. Furthermore, she plays a vital role in manufacturing fine contemporary and classical furniture.
Education:
Completed BA (Hons) & Master in English Literature.
Awards:
First interior designer to be awarded Padma Shri in 1992.
Work:
She restored the Prime Minister's Office.
Hyderabad House
Parliament House Colonnade
Rashtrapati Bhavan (The President's House) in New Delhi.
Also Read: Top 10 Best Architects in India 2023 & Their Works
2. Shabnam Gupta
Shabnam Gupta, a new generation interior designer, follows a highly-evolved design approach. Her designs are unique because she combines design and space to tell stories. She runs a designer studio called The Orange Lane.
Education:
Graduated in the sphere of interior design from LS Raheja College of Architecture.
Awards:
She has received a prestigious award in the arena of interior designing, AD50 2017 Award for the 50 most influential and significant architects and interior designers.
Work:
Recent projects consist of the homes of Rani Mukerji and Kangana Ranaut.
Outlets of The Bar Stock Exchange in Mumbai and Bangalore.
Social in Pune
Institution of Higher Education in Chandigarh.
3. Ambrish Arora
With more than three decades of experience, Ambrish Arora has gained a reputation as one of India's top interior designers. Ambrish Arora trained and worked as a boat designer before moving to Spatial Design. He founded the interior design firm Studio Lotus in 2002.
Education:
He is a self-taught designer.
Awards:
World Holiday Building of the year at the World Architecture Festival & World Architecture News Awards.
The Creative Reuse Category Winner- INSIDE Awards at World Architecture Festival in Berlin.
The Grand Jury Prize at the Design for Asia Award
Made up to the AD50 list for 4 consecutive years
Nominated for Aga Khan Awards in 2013
Work:
Ambrish Arora is a Fellow of the RSA.
Worked as a design consultant to the Crafts Museum, Delhi and The Mehrangarh Museum Trust.
He has served as a visiting faculty, and consultant to architecture and design schools across the country and has lectured extensively at design events in India and abroad.
Also Read: Luxurious Gautam Adani House Interior Ahmedabad, Delhi & Gurgaon
4. Anjum Jung
Anjum Jung is undoubtedly a big name in interior design. She has pan-India clients and is a leading interior designer in India. She is the founder of Morph Design, an interior design firm in Bangalore and sister of the Prestige group. Her forte lies in creating stylish urban designs.
Education:
Completed education at Cornell.
Awards:
Winner of various national and international awards.
Work:
Worked on numerous projects like Prestige Silver Oak, Prestige Edwardian, Prestige Oasis Resort.
Footworks Spa- Orion Mall
Angsana Oasis Spa
Oakwood Premier Prestige
Prestige Golfshire villas.
5. Lipika Sud
Lipika Sud is one of India's most renowned interior designers. She is the Founder and Director of Lipika Sud Interiors Pvt. Ltd. and Dimension Designers Pvt. Ltd. She has practised interior design for over two decades and has left a significant mark. One finds great versatility in her works, executed with great detail.
Education:
Economics (Hons) graduate from Shri Ram College of Commerce, Delhi University.
Completed post graduation in Advertising & PR from Indian Institute of Mass Communication, New Delhi.
Pursued Diploma in Interior Design, London, UK.
Holds an LLB degree from the Law Faculty at Delhi University.
Awards:
Awarded as the Best Design Professional of the Year in 2012.
FICCI FLO Outstanding Women Achievers Award for Excellence in Entrepreneurship in the Professional Category for 2013-14.
Design Professional of the Year by Indian Home Congress in 2012.
Indian Power Awards on 29th January 2014 for Distinguished and Outstanding Individual Contribution towards Building the Nation and the Professional Entrepreneur Award 2013 by Yes Bank – SRCC Alumnus on 9th February 2014.
Awarded Best Interior Designer for Creative Excellence- Society Interiors.
Work:
Noted projects are Havells Corporate Office, Ericsson, Hindustan Times- Study Mate, Sharda University, Shivaji Stadium Metro Station, New Delhi Railway Metro Station, Hyundai Motors, Daikin, HCL, Bausch & Lomb, Fuli, Bloomberg, American Express, Kirloskar Brothers & Tata Motors.
Several hotels like Savoy Suits- Ascot Hotels- Manesar, Lalit Great Eastern Hotel, Zuari Resorts, Majestic Hotels Limited, and many more.
Also Read: Top 8 Indian Celebrity Home Interiors With Trendy Designs 2023
6. Tanya Gyani
Tanya Gyani is one of India's most versatile and famous interior designers because of her variety of work. Her strength lies in her ability to handle a wide range of projects. After working as an interior designer in Dubai, Hong Kong and India, she moved to the U.S. and opened her design firm in Palo Alto, California.
Education:
Graduated from National Institute of Fashion Technology, New Delhi
Completed Master's in Interior Design from Florence, Italy
Awards:
Awarded the Elite Student Award of the FDA while studying Interior Design in Florence, Italy
Work:
Her work can be seen at selected restaurants and Tech Companies in Palo Alto.
Worked as Chief Interior Design Consultant at one of India's top real estate developers- DLF, on iconic properties like Aralias and Queen's Court, Magnolias.
Also designed decorative accessories for retailers like Micheal Aram, Pottery Barn, Crate & Barrel, Massimo Dutti etc.
7. Payal Kapoor
Payal Kapoor is probably the only Indian designer to be featured in the latest volume of Baron's Greatest Interior Designer in the world. She works as an interior designer at international Repute.
She is a member of the Association of designers, whose work has been featured in various publications and TV shows in India and abroad. Payal Kapoor is also a columnist for Hindustan Times, Pioneer Newspaper and advisor to Asahiana interior program on Zee TV.
Education:
Completed Masters in Interior Design from New Delhi Polytechnic.
Awards:
Her name is included in Baron's Who's Who of the World Global Edition.
Work:
Her work can be seen across private residences and trains, such as Palace on Wheels, and The Rajdhani.
Heritage buildings like Balsamand Lake Palace, Umaid Bhavan
Imperial Hotel
GD Goenka School
Central Cottage Industries Corp. Ltd, New Delhi.
Also Read: 10 Most Expensive Houses In India 2023 (Billion Dollar Homes)
8. Aamir & Hameeda
The husband-wife power couple head Aamir and Hameeda Interior Designers & Contractors, better known as AANDH. They are favourite among the most famous couples in interior design circles in Hyderabad and the country.
Their work impacted the interior design industry across the country. Their design works are counted amongst the best in India, marking their place among the top interior designers in India. The phrase 'Out of the Box' completely justifies the kind of work they deliver.
Awards:
Bagged 20 National and Regional awards for Excellence in Design, including the Hafele Trends Excellence Award in Interior Design in 2016 & 2017.
Won many National and Regional awards by IIID.
Listed as No. 7 in the Forbes List of Interior Designers and Architects in 2010.
Work:
Designed more than 47 restaurants and bars in Hyderabad.
Some of their work includes Allu Arjun's farmhouse, N Grill in Hyderabad, actor Sunil Shetty's boutique known as More Mischief, Prost in Bangalore, a boutique called Floor Deck in Hyderabad.
9. Ajay Shah
Mumbai-based interior designer Ajay Shah owns a design studio named ASDS (Ajay Shah Design Studio). He has worked on various projects like industrial designs and architectural structures. The designer has his forte in retail-based designing. Hence, he's an ideal choice for anyone looking for interior designers in India.
Education:
Graduated from National Institute of Design, Ahmedabad
Specialised in Furniture Design within Industrial Design
Work:
Worked for several renowned brands like Gemini Cinema, PVR Cinemas, Tommy Hilfiger, InOrbit, and Le Mill.
Also Read: Ravishing Interior Design of Kangana Ranaut House in Manali
10. Sudhir Gandhi
Owner of Sudhir Gandhi & Associates, Sudhir Gandhi is one of the topmost interior designers in India. His works consist of engineers, planners, structural restoration, etc.
Education:
Completed B.Arch from JJ School of Architecture.
Work:
HSBC Bank Corporate Office
HDFC Bank Corporate Office (Chennai, Gurgaon, Chandigarh)
Standard Chartered Bank, Delhi
IRCTC Office, Delhi
SEBI Corporate Office, Delhi
Conclusion
Even if interior designers are educated and have a good taste, their choices can be different from their clients. Their job is to offer a variety of styles and direct the client towards the right design choice while allowing the client to feel in charge. Considering the need for a fine living, the demand for interior designing is at its all-time high in India.
So, this was a list of the best Interior designers in India. If you are looking for elegant interiors, hire a specialist in designing spaces, and you will not regret your decision once.