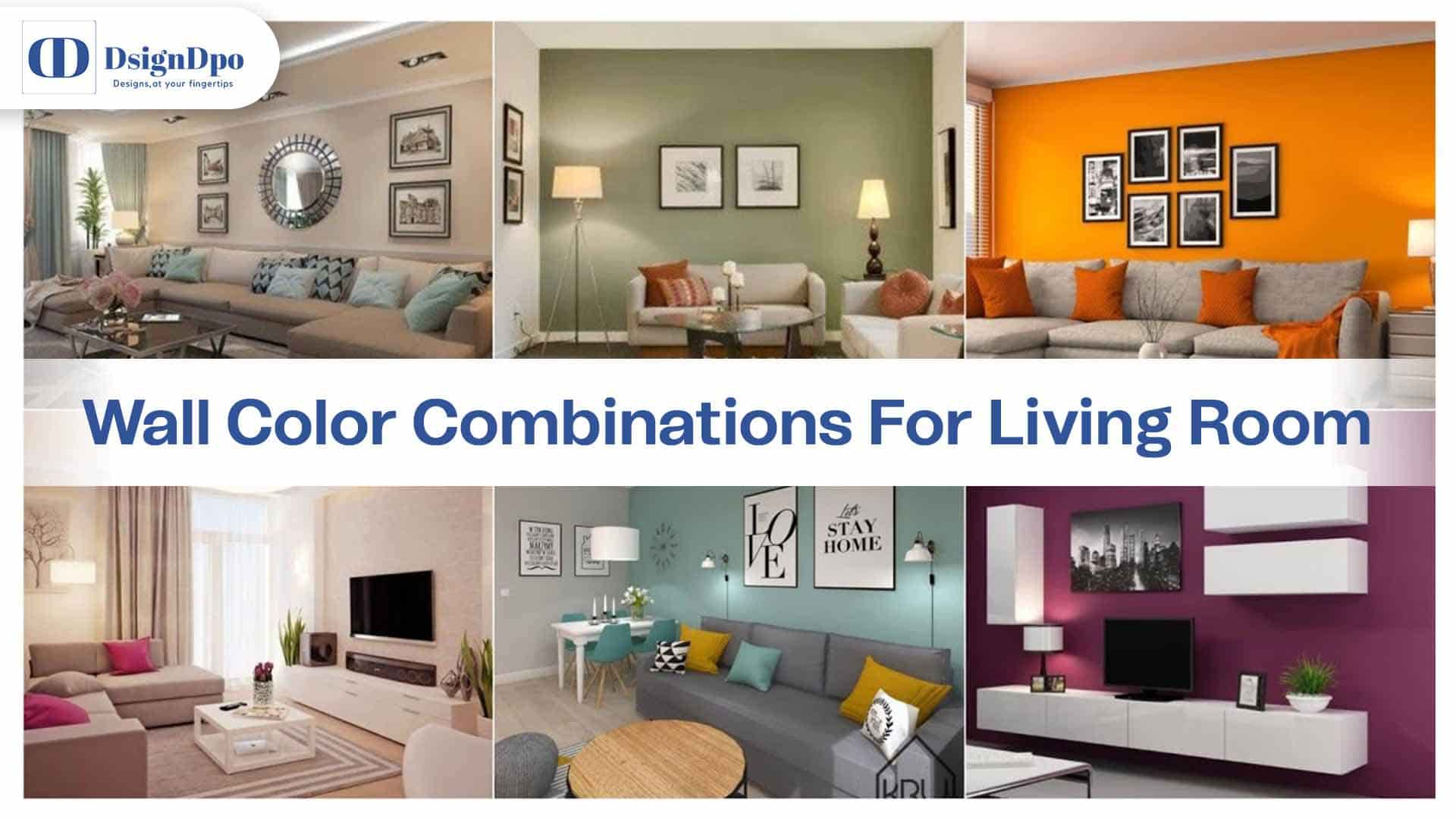 29 Best Two-Color Combinations for Living Room Walls
Living rooms combine all the elements that transform a space into a beautiful home. The place is the ground for endless memories that families together create. The living room wall color combination is an important vibe-deciding factor in the home. The right two color combinations for the living room can transform moods and kick off some interesting hour-long conversations.
Saying this, wall color patterns are a crucial factor if you know the role and importance of colors in interior design. Colors that please your eyes would make you comfortable in that space for years. There are multiple color combination ideas for the living room. You might choose one that energizes your mind and creates a positive environment in your place.
Some people are comfortable with bright shades, while others look good around light shades. From the most common to the most sparse colors, this is your detailed guide to the best wall color combination for living rooms in India.
Modern Two Color Combination for Living Room
1.White and Navy Blue
Simple and sweet, this is the perfect color combination for modern-day interior designs. The combination will make the place look more elegant and sorted.
The blue color symbolizes the freshness of the sky, and the white represents purity. Together they glaze the living room environment, creating a sense of serenity. It goes well with most types of living room styles and themes.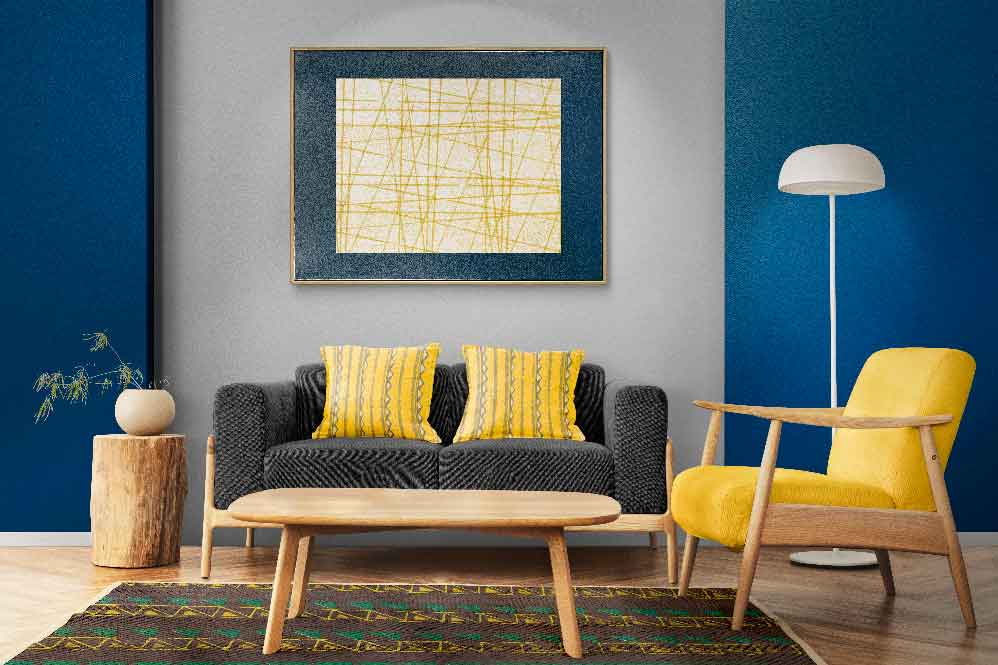 2. Sky Blue and Light Green
Sky blue gives the feel of a light sky, and the light green represents the water from the sea. Together these shades produce an alluring natural effect in the area.
This combination will relax the mind and create silence in the room. Accompanied by some indoor plantations, they will maximize the appearance of the space, making it the perfect wall colour combination in the living room.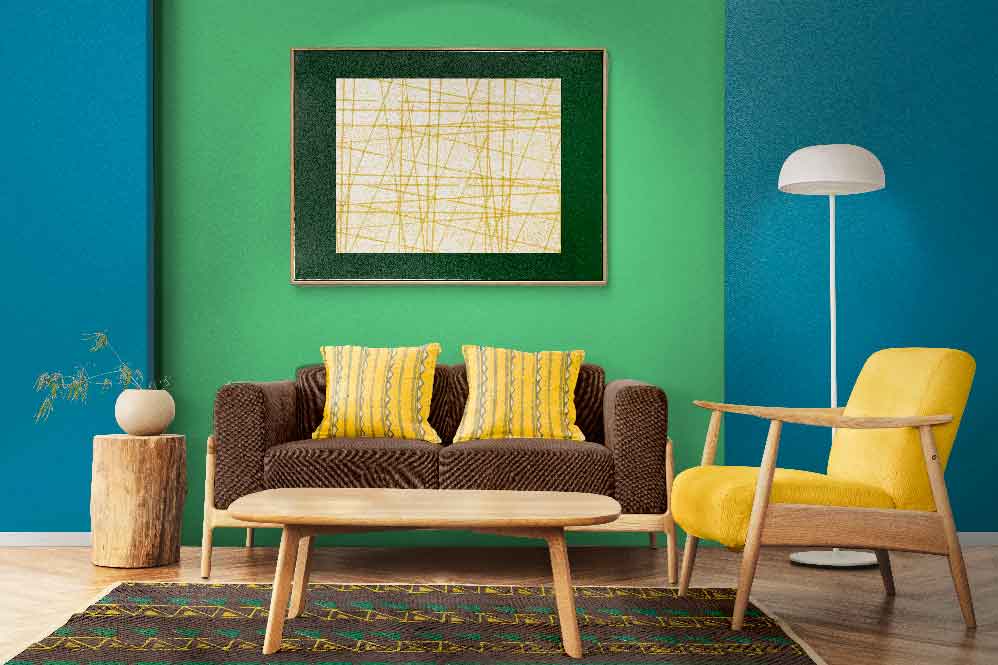 3. Baby Pink and Emerald Green
They might not sound great together, but they look alluring when properly painted on the walls. The combination is refreshing and vibrant.
The nostalgia of baby pink whisked with the harmony of Emerald Green gives a tempting vibe. It is a suitable wall color combination for small living rooms that do not occupy many people.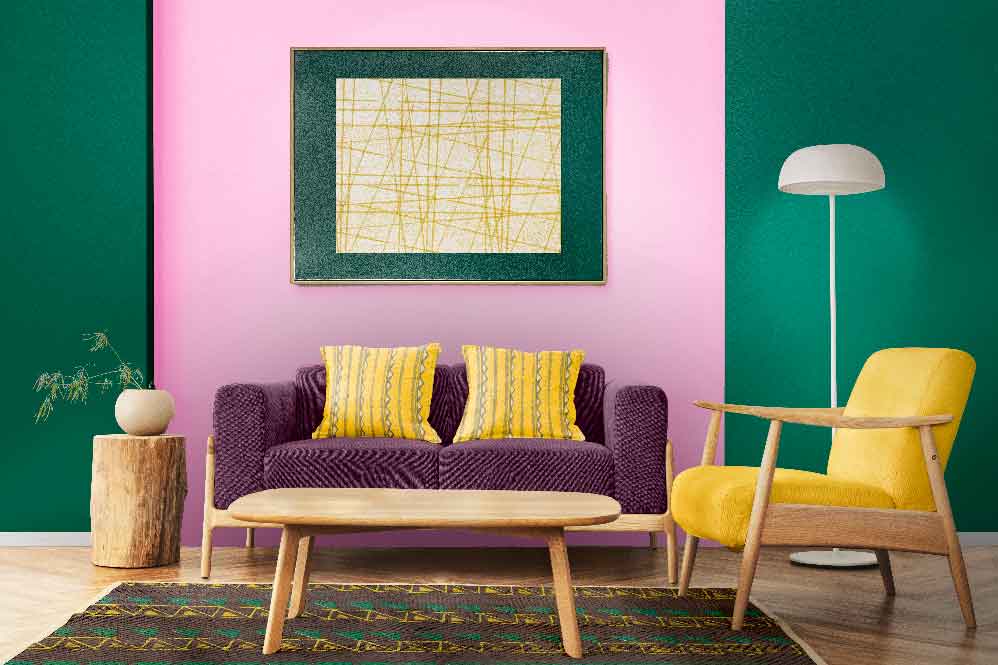 Also read: Tile Flooring vs Wooden Flooring: All Differences
Cream Colour Combination for Living Room Walls
4. Chiffon Cream and Coffee shade
This is a happy color combination for many coffee lovers. The creamy appearance of chiffon shades embraced with soothing coffee color texture looks blissful. This is a great combination for people who are professional by nature.
The color goes very well with hardwood furniture. Coffee shades are associated with rustic interior designs.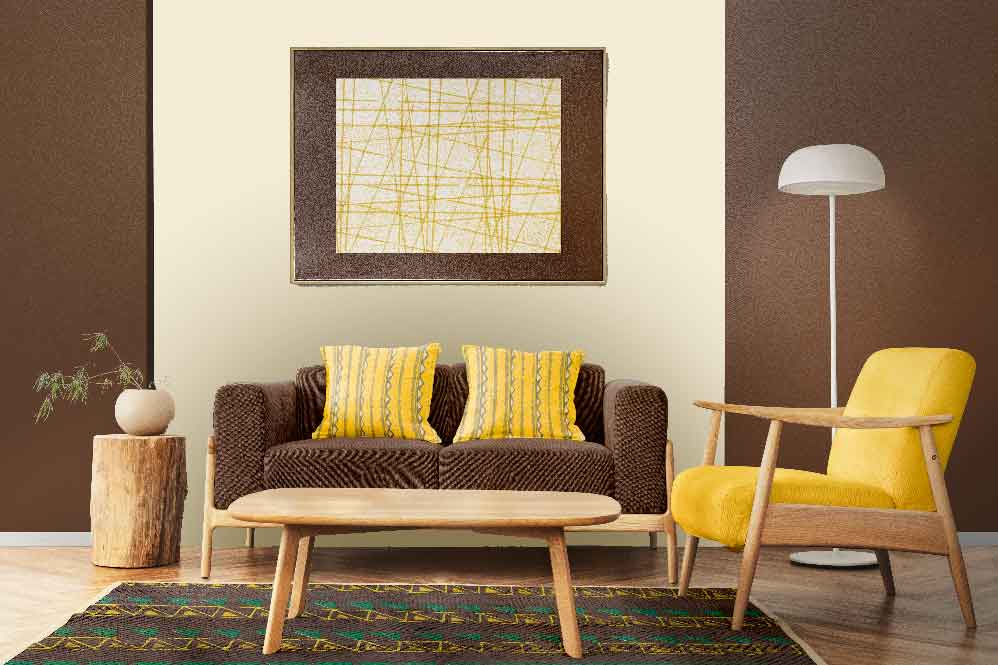 5. Purple and Cream Color
The main shade, purple, assisted by a less dominant cream color, makes a very good wall color combination for the living room. The cream color's positive nature completes the purple shades' wisdom character. They make the walls look elegant and grand. The combination is rare but looks amazing.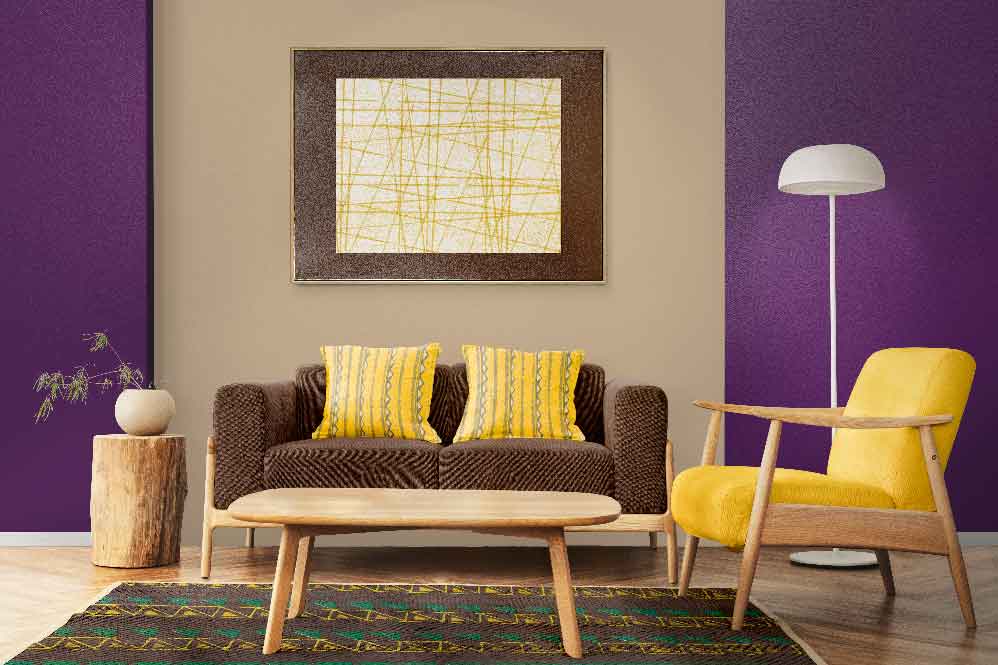 6. Spicy Orange and Cream Color
You will fall in love with this color combination for living room walls. The shades are inviting and blissful. The modesty of neutral colors like cream, backed by the sacredness of spicy orange color, turns out to be an absolute charm.
The shade goes well with a rustic interior design style. Owners can use handicraft materials to make the place more appealing.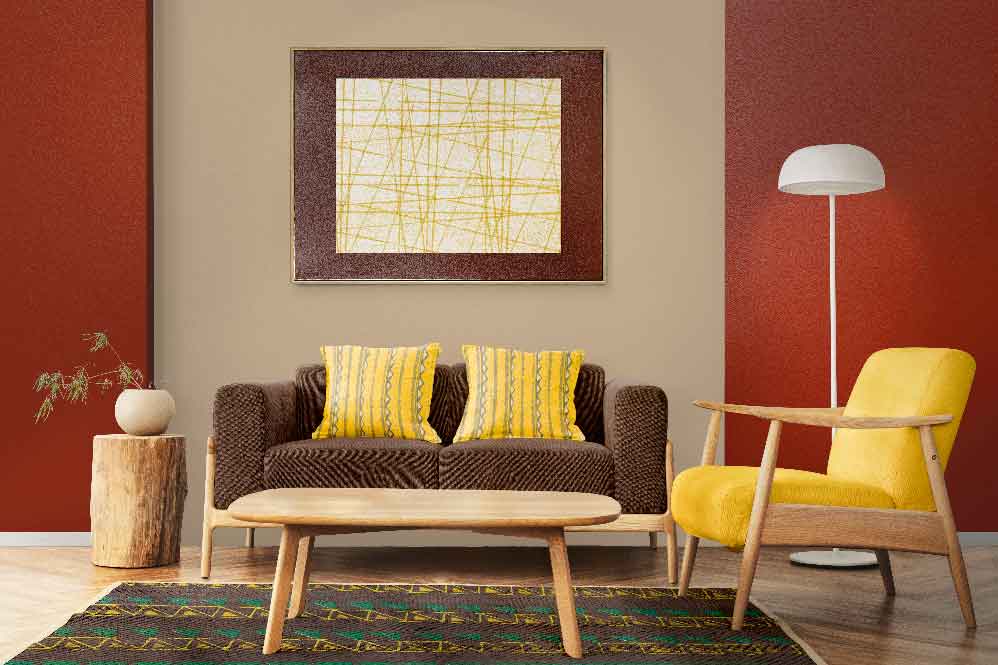 7. Fossil Green and Pine
This is the perfect combination to attain a natural vibe in your living room. The fossil green color gives a glace of rotten wood, and the pine color represents lush green trees.
You will feel quiet and have a sense of inner peace in the place. Along with the vibe, it makes the place look more spacious and large.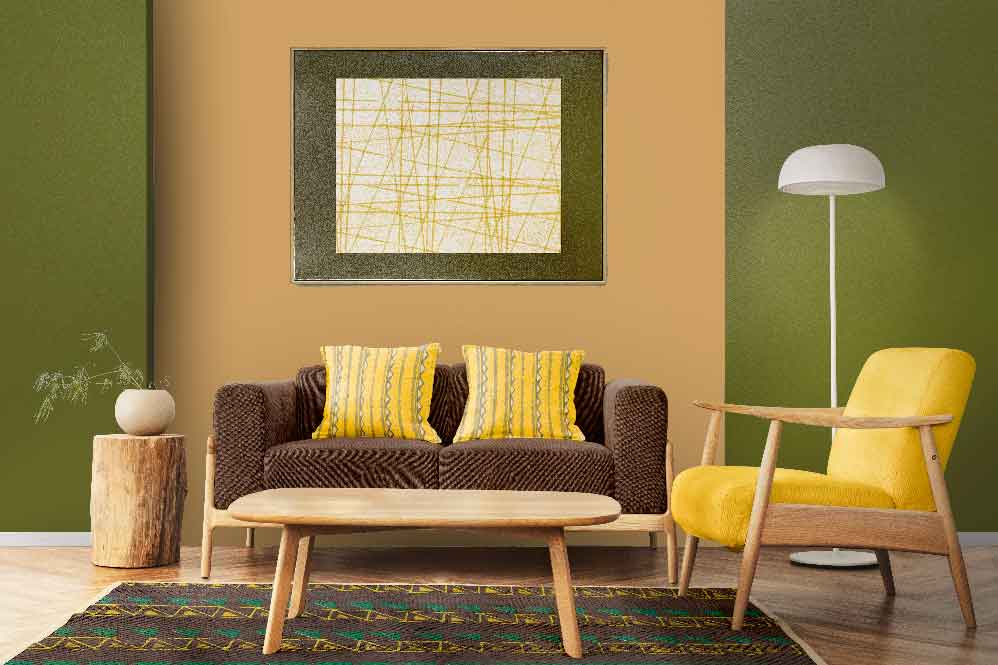 Yellow Colour Combination for Living Room
8. Blue and Yellow
These dynamic shades give your living room an electrifying appearance. The color creates an active environment in the room and recharges your mood. It gives a natural feel of the sky and sunshine.
Furthermore, the blue and yellow color combination for the living room spreads a perfectly good morning vibe. It follows interior design principles, symbolizes a new beginning, and is the perfect choice for your new house.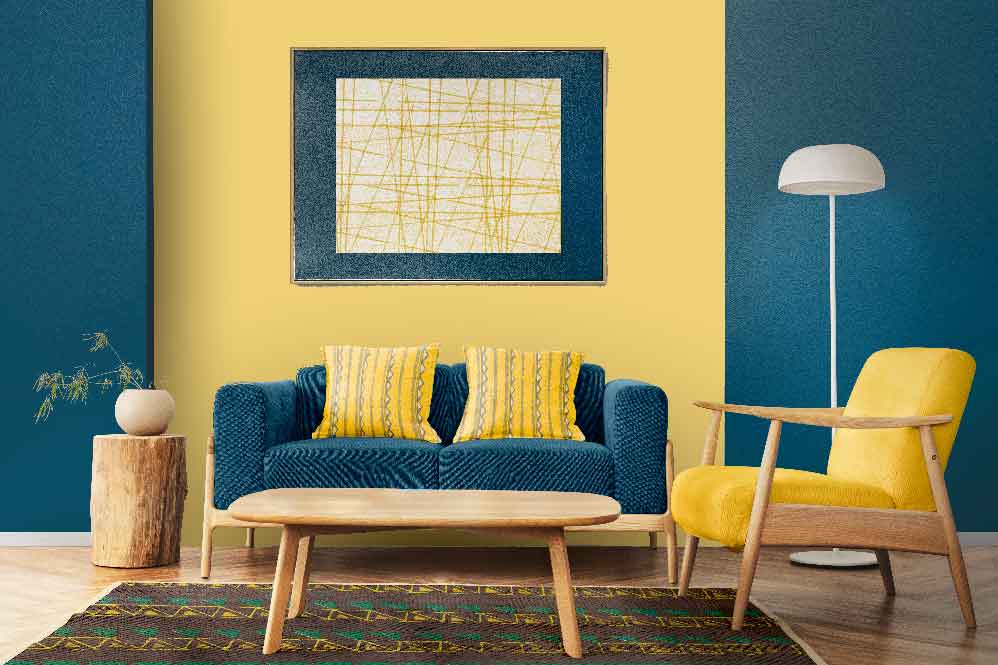 9. Grey and Lemon Yellow
It is a great idea to combine yellow shades with grey colors. The happy character of yellow color unites beautifully with the senility of grey color. Together they make perfectly warming wall color shades for living room. The place will look more antique, and this shade is most suitable for victorian interior designs.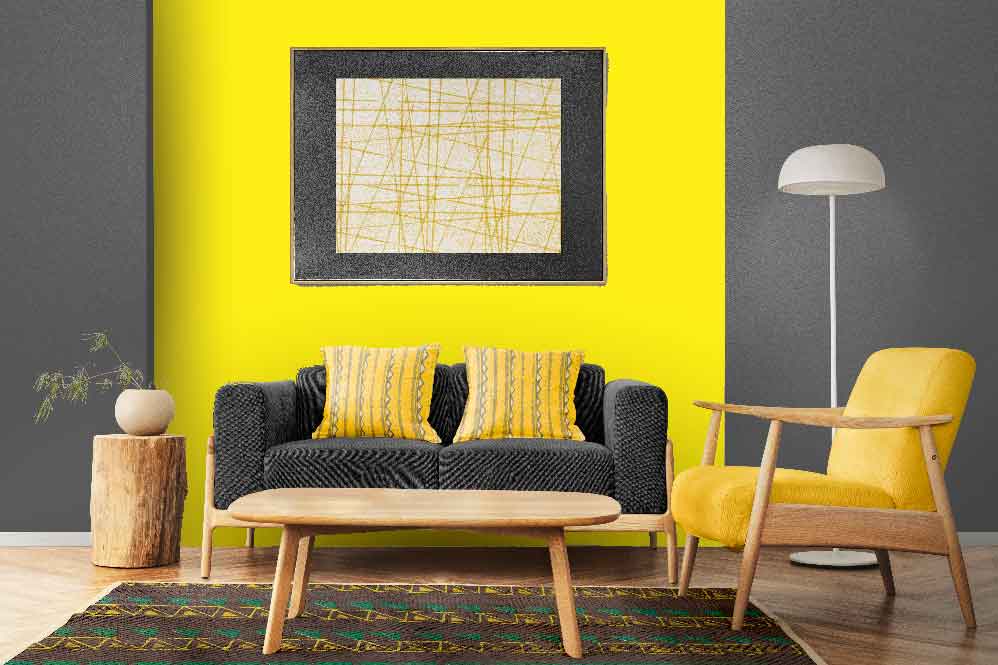 10. Spring Green and Lemon Chiffon
These light shades of dominant colors are great for sea-facing houses. Spring green and lemon chiffon color combinations are often used in coastal interior designs. They look refined and simple, generating a more spacious appearance in the living room.
Complimented with coral light shade painting and decoration, these will amplify scenic appearance.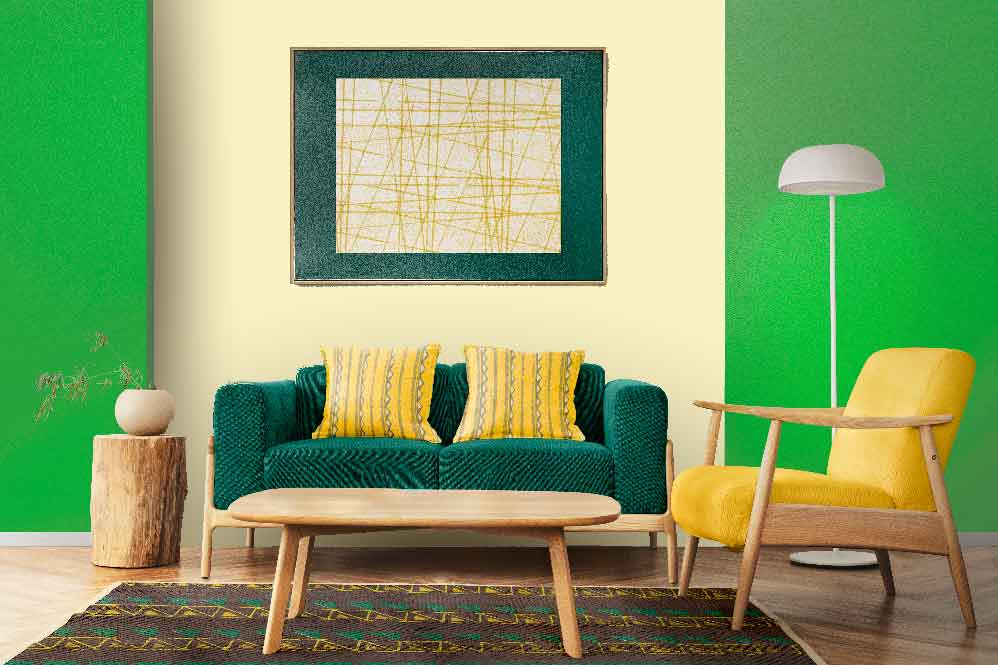 Also read: Interior Design Cost in India (2022-23): Per Square Foot, By Cities & Flat Size
11. Sky Blue and Reddish Yellow Color
This living room wall color combination is calm and creates a beach vibe in your living room. You will feel like you are relaxing on a beach.
The blue color represents the sky and the serenity of water, while the reddish-yellow color represents a beautiful time. It will create a relaxing and pleasant environment in your place.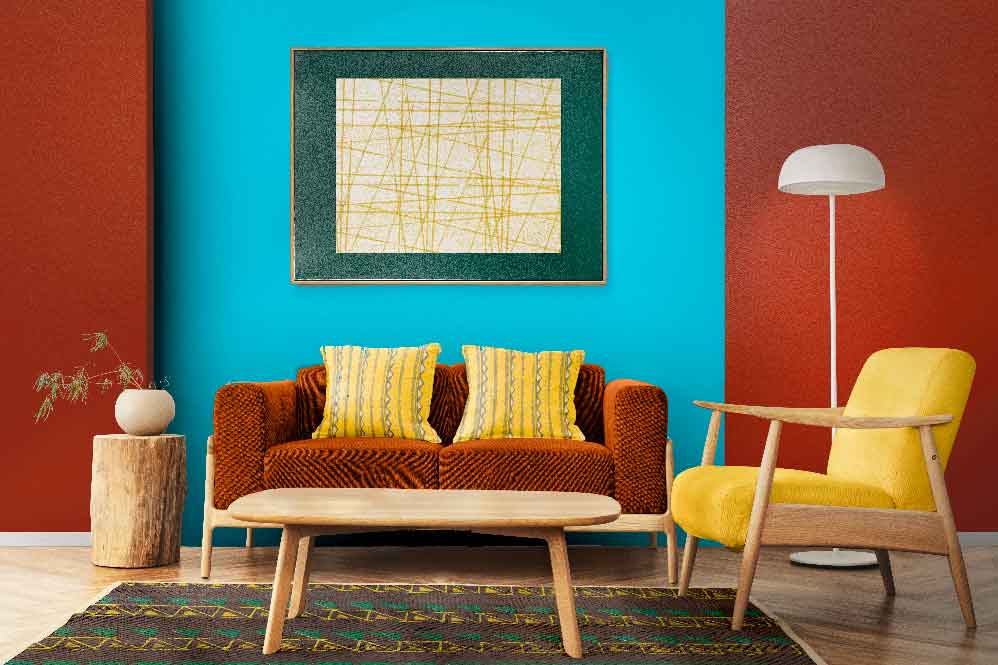 Grey Color Combination for Living Room Walls
12. Pink and Grey
This is a modern two color combination for living room that binds cheerfulness and wisdom together. Pink color signify love, playfulness, and passion, while the latter defines experience and maturity. A soft touch of grey color on dominating pink wall is perfect for big living rooms.
This will create a systematic and clear appearance in the room. Combined with some bright LED lights or the right types of ceiling lights, it is perfect for housewarming parties.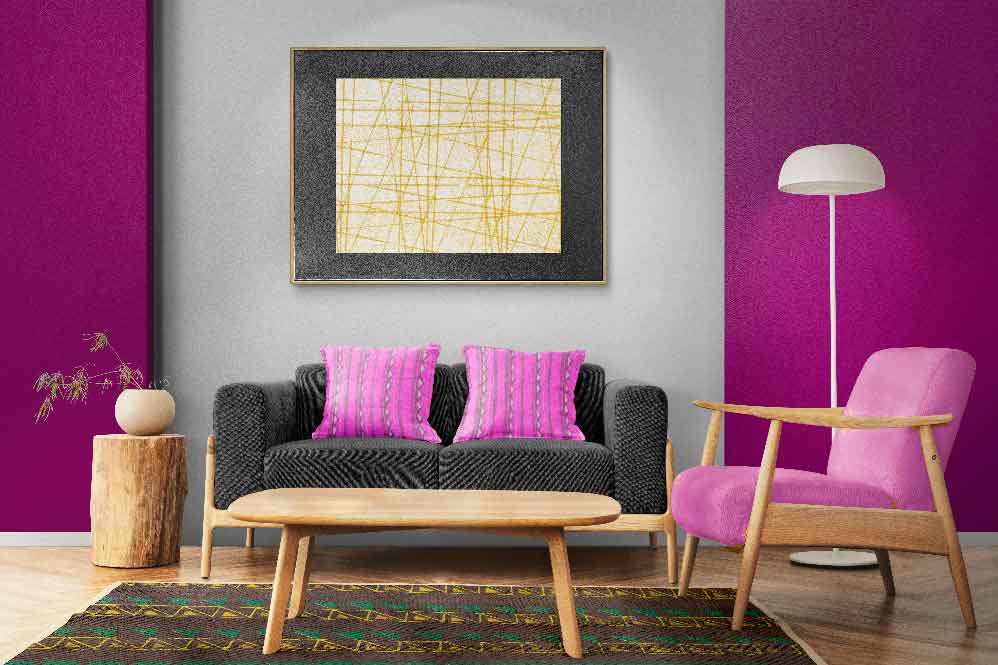 13. Grey and Red
When packed with each other, grey and red create a soothing visual for living room walls. The brightness of red is the room's focal point, and the neutrality of grey balances out the brightness of the red color. Grey with red is the most preferred red colour combination for the living room.
The shade combination is preferred for large rooms with proper natural lighting. Try not to put too much furniture in the room as it would ruin the impression of shades. You can also choose curtains for living rooms according to the colors of the walls.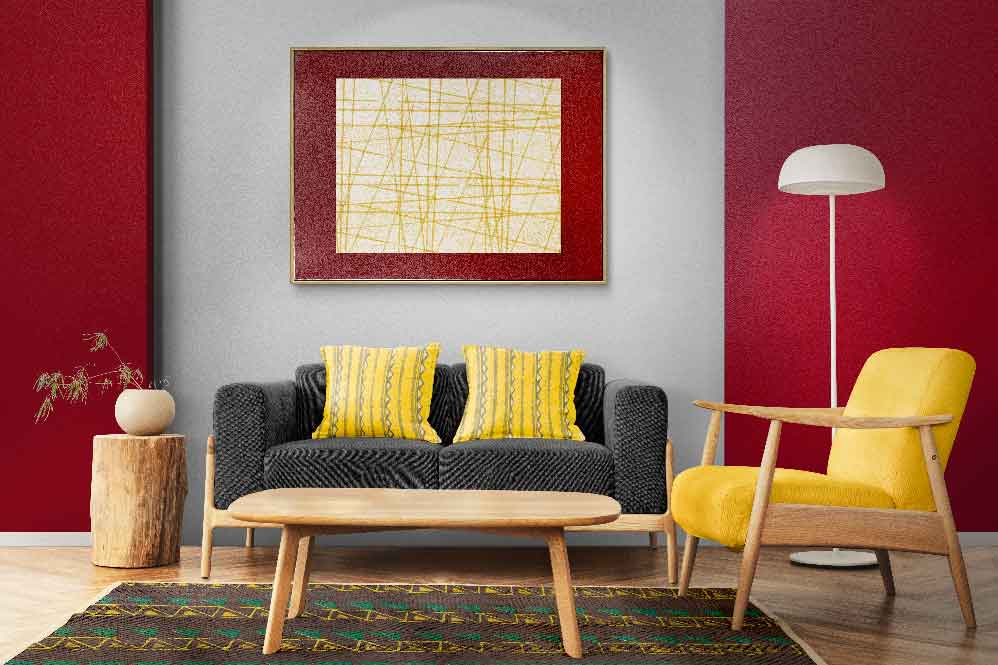 14. Cloud Grey and Deep Blue
The color scheme suits people who want to end their day in a peaceful and cool environment in the living room. The deep blue color signifies the silence of deep oceans while cloud grey eternity.
This grey color combination for living room walls suits the contemporary interior design style well. Use minimalist white and light color interior to make the living room look more elegant.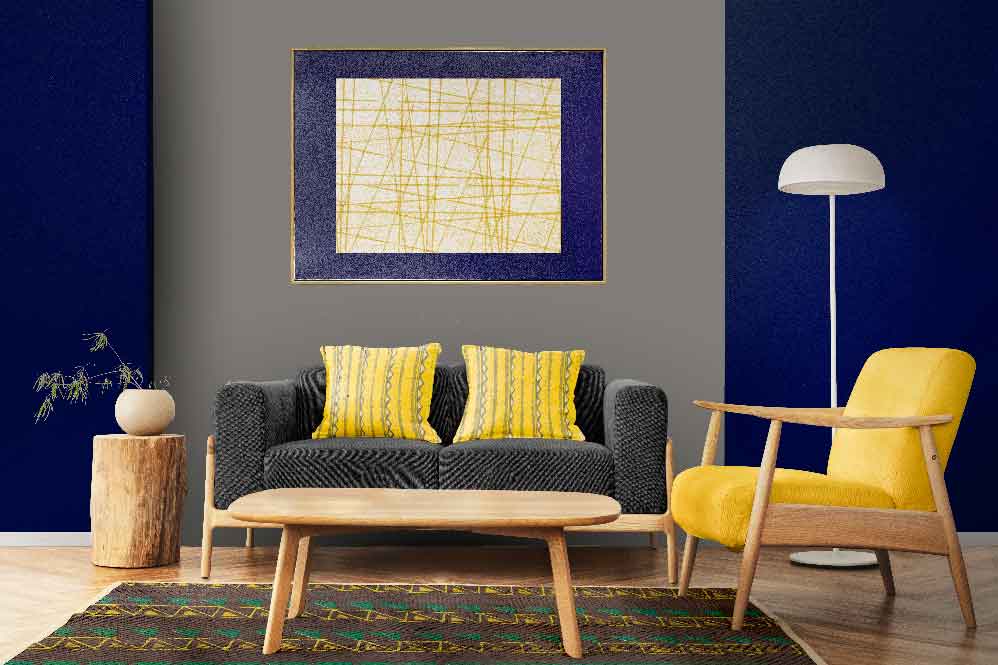 Also read: 7 Best Colors for Bedroom Walls With Reasons & Benefits
Off White and Light Colour Combination for Living Room Walls
15. Smokey Green and Off-White
Smokey green is a dark green color that goes well on every home part. But it will allure living room walls better. The elegant nature of the smokey green color meld with the goodness of the off-white color producing cheerful vibes.
These two color combinations for the living room are relaxing and active at the same time.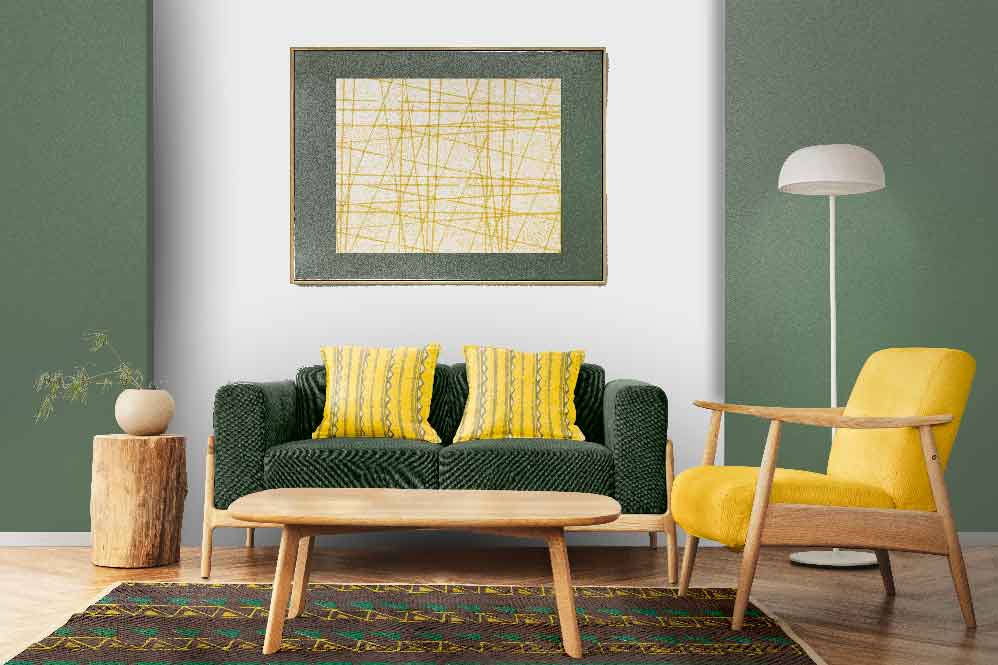 16. Tangerine and Bone White
Color combination represents joy and happiness. This is the perfect color combination for houses with joint families, where gatherings and celebrations are common. Orange symbolizes energy and positivity, while white spreads purity and innocence.
It is one of the most preferred living room wall color combinations. These evergreen shades are a great choice for traditional interior designs.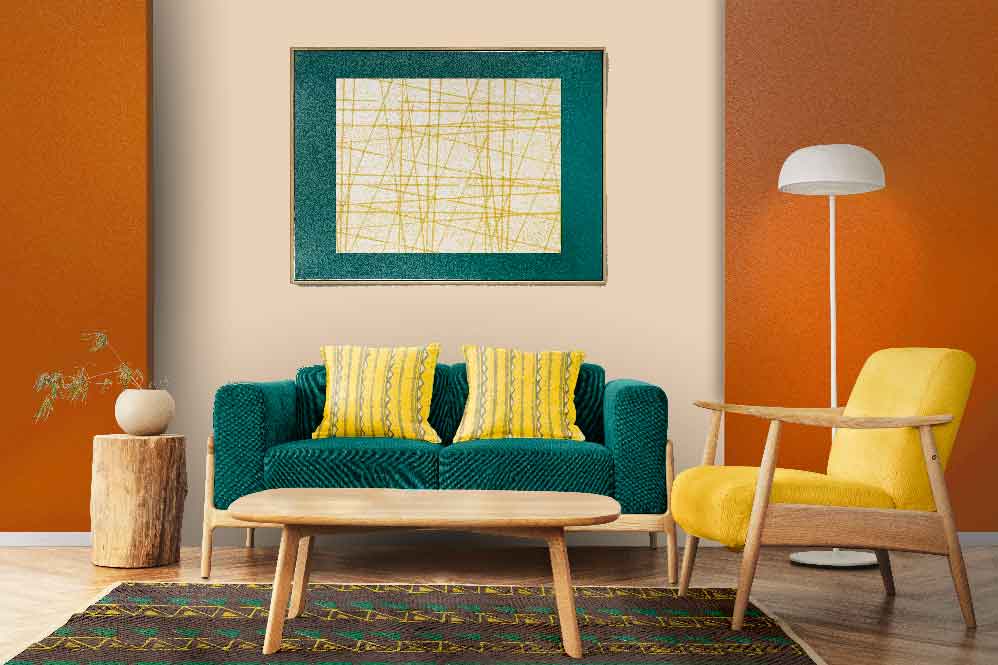 17. Coral and White
Coral colors have their dominant character. It becomes quite difficult to create a perfect combination of these colors. However, white goes very pleasant with coral color.
The vibrant and freshness of coral color blended with the mystic purity of white gives a delightful aura. It is suitable for villas that are faced to sea or ocean.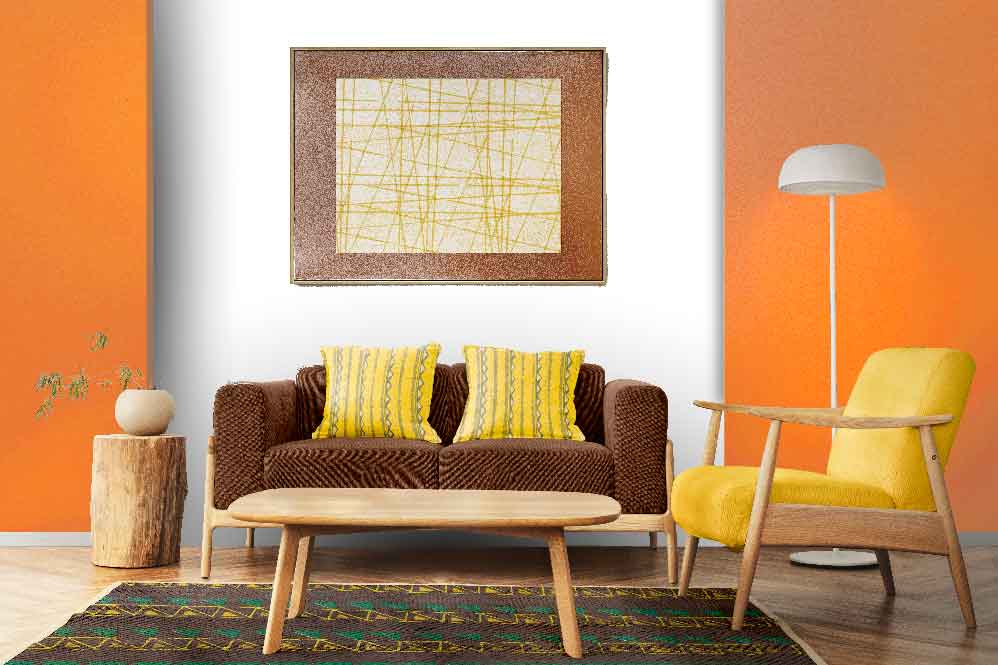 18. Dark Blue and off-White
Blue shades are always the preferred choice to beautify large walls. Dark blue shades blended with white color give a striking impression of the place. The dark blue shades are associated with authority and reliability.
While white color symbolizes peace and purity. It will surely give a classic appearance to your space. The white shades will make your place look spacious and a bit larger than the standard living room size in India.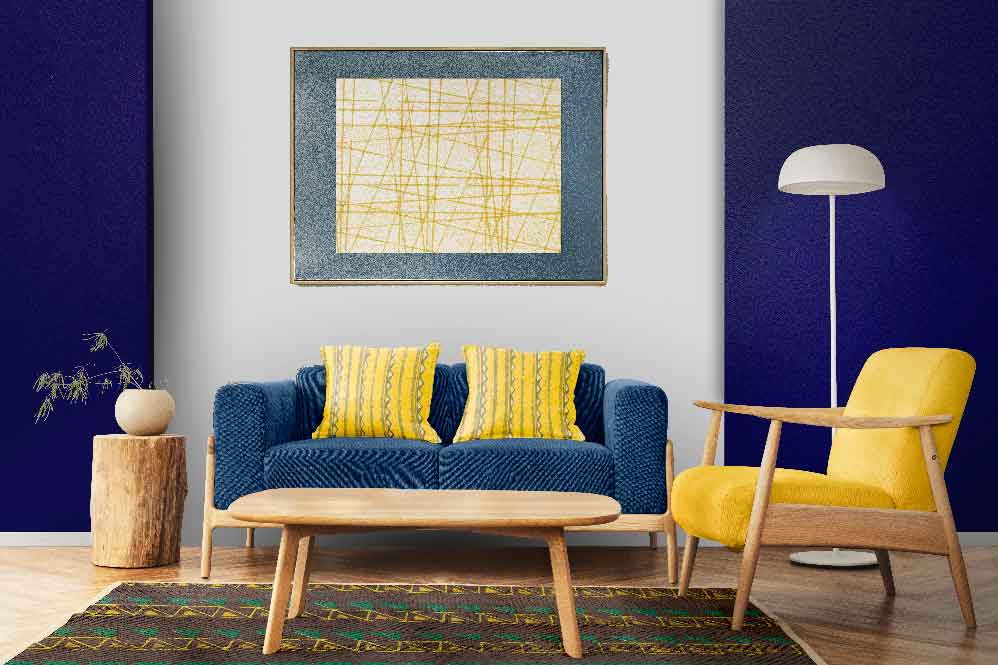 19. Ebony Black and Pale White
This is a good wall color combination for large living rooms. It looks appealing and tempting. The powerful formal character of the ebony black color fused with the creamy appearance of pale white is perfect for royal rooms.
This, accompanied by some great yellow lighting, will elevate the standard of the living room. Try not to bring vibrant shade accessories into the room. You can also opt for living room decoration with plants to add a natural vibe.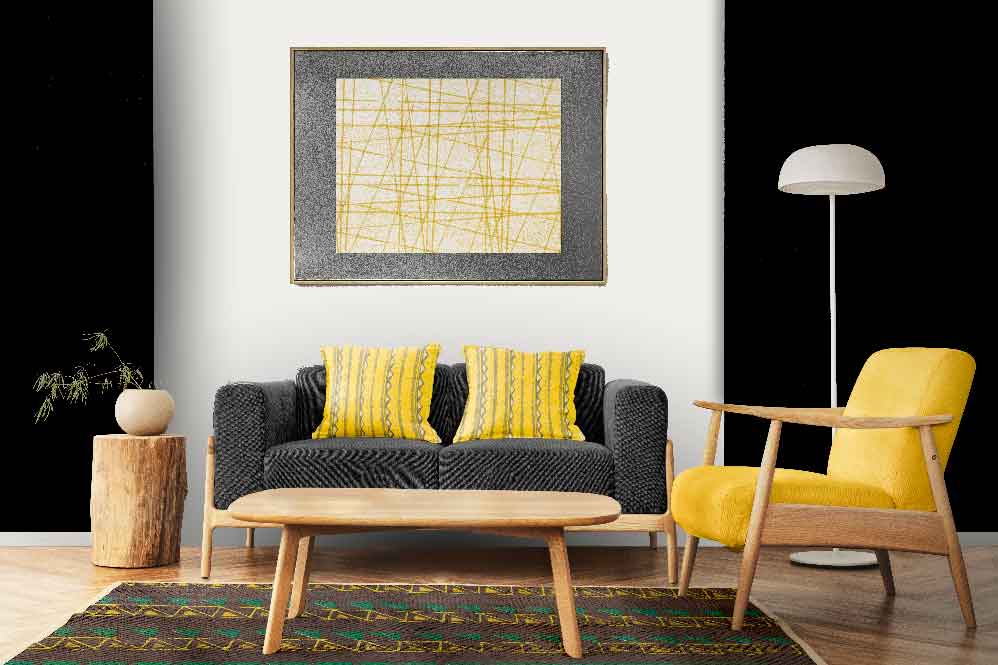 Also read: 10 Types of Flooring in India: Which One is Right For Your Home?
Royal Colour Combination for Living Room Walls
20. Honey and Fire Orange
These dark color shades for living room walls are the perfect hustle for large-sized royal houses. The combination gives a grand appearance to the place and is ideal for mid-century interior designs.
Honey represents sweetness and a natural appearance, while fiery orange spreads warmth and royalness. Try to use dark-colored furniture with these shades to give a more baronial look.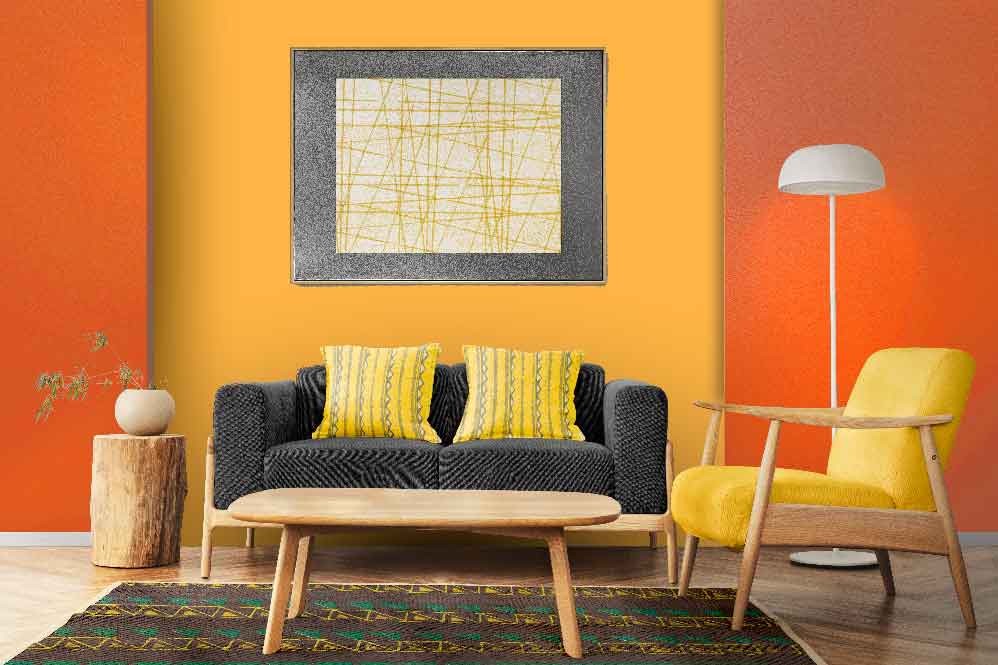 21. Grape and Green
These two shades are worth noticing. Grape and green together make a very dramatic appearance and look good. Grape color is a symbol of royalty, power, and luxury. Combined with the envy of green color, this combo creates the perfect hue for king size living room.
The shades go well with traditional, Bohemian, Hollywood regency, and other popular interior design styles.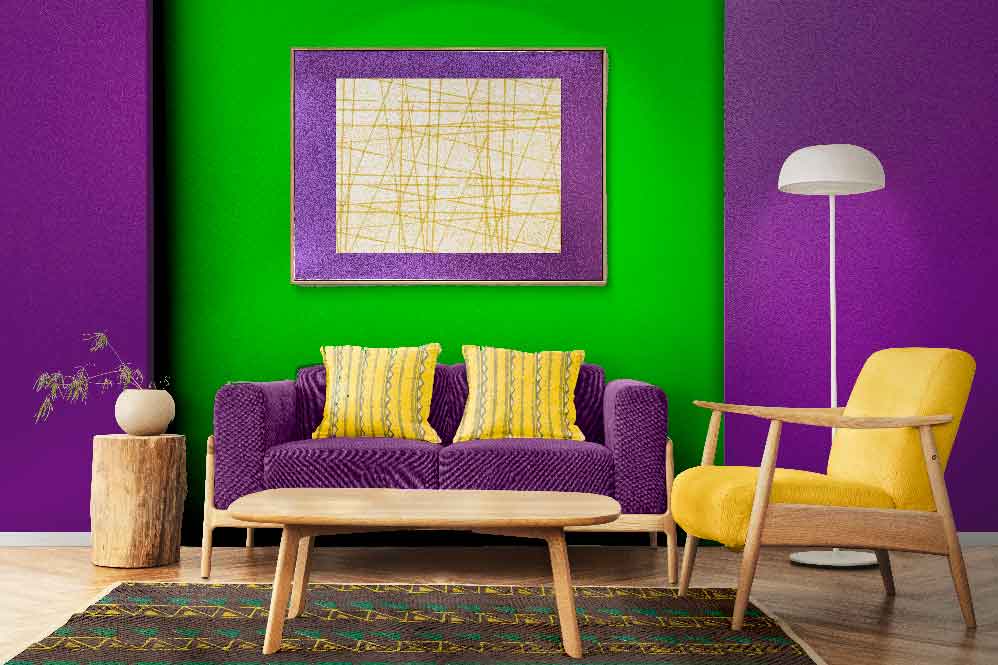 22. Bright Pink and Green
The young and bright shades are a good choice for your living room. The bright pink color is a sign of love, and the green color signifies luck and health. If you have a big size living room, then you should go with this shade, they look trendy and classy.
The green color deepens your connection to nature. It is easy to find decorative items that go well with this royal color combination for living room.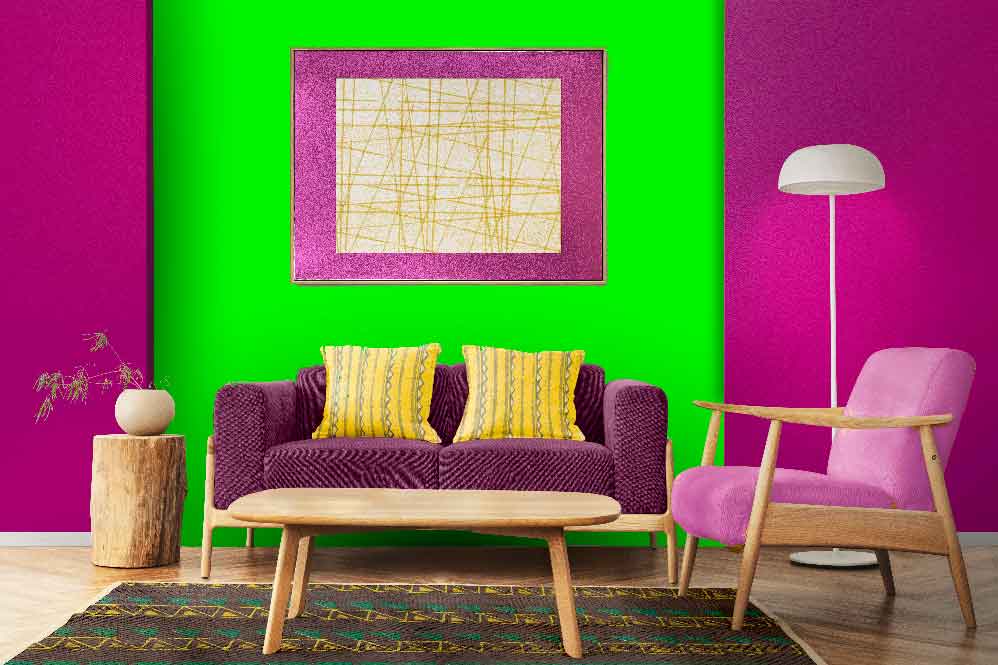 23. Charcoal and Mint
This is the most preferred two-color combination for living room that follows the latest interior design trends. The Mint color represents reality, while the charcoal color represents strength and mystery. This is a great color combination for Scandinavian interior design, wherein the dark environment is disoriented with artificial lighting.
Charcoal and mint colors encourage conversation and promote occasions and celebrations.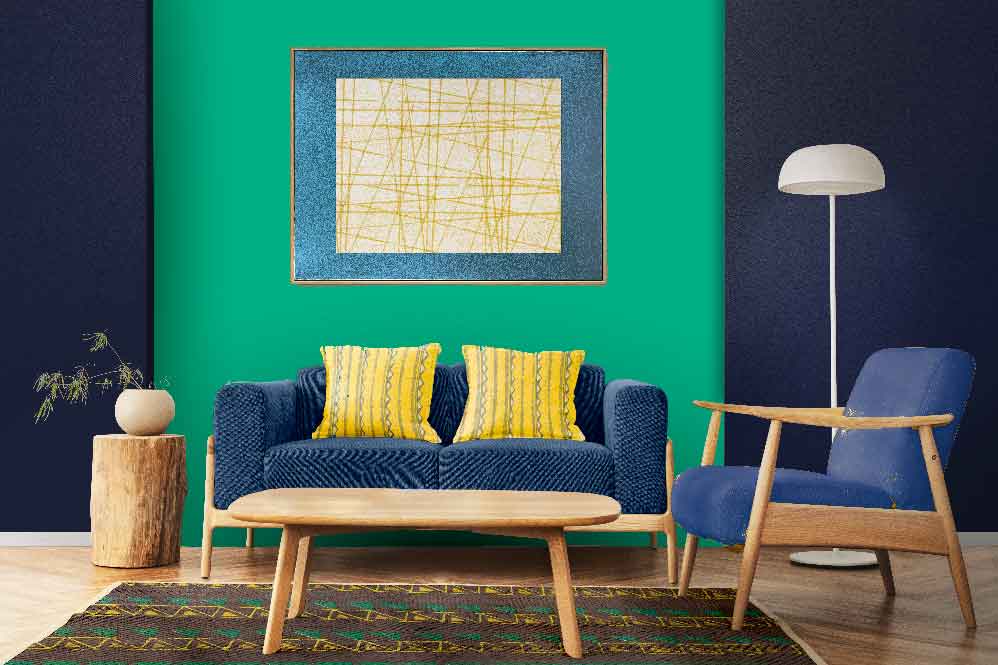 24.Lime Green and Bubblegum Pink
They are among the most rejoicing and energizing living room wall color combinations. This combination is great for homes that occupy a joint family. The colors make the celebrations and occasions more joyful and exciting.
The lustrous appearance of green goes perfectly well with the sweetness of bubblegum pink. It will look good in small as well as large living rooms. You can choose it even if you are doing interior design with low budget.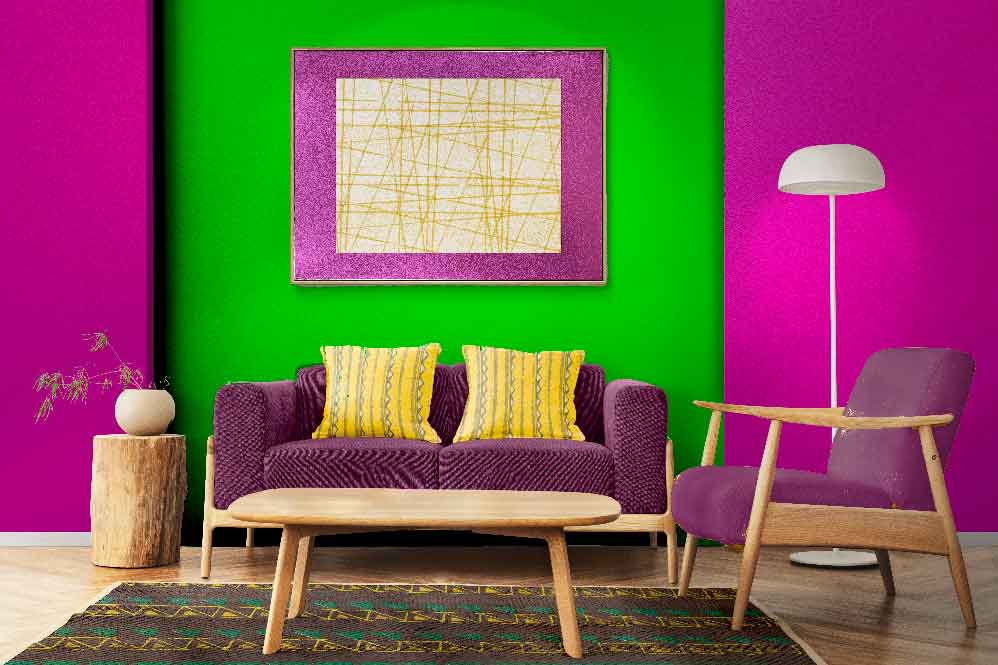 Also read: What is Interior Design? Definition, History, Styles, Principles, Benefits, Elements, Cost
Maroon Wall Colour Combination for Living Room
25. Rose-red and Magenta
Both rose-read and magenta are natural colors that represent love and harmony. These are alike shades, thus creating balance and calmness in the living room.
Paint the small wall with brighter rose-red color. Use magenta color to paint the other walls of the room. They go very well with traditional interior design style and heavy furniture.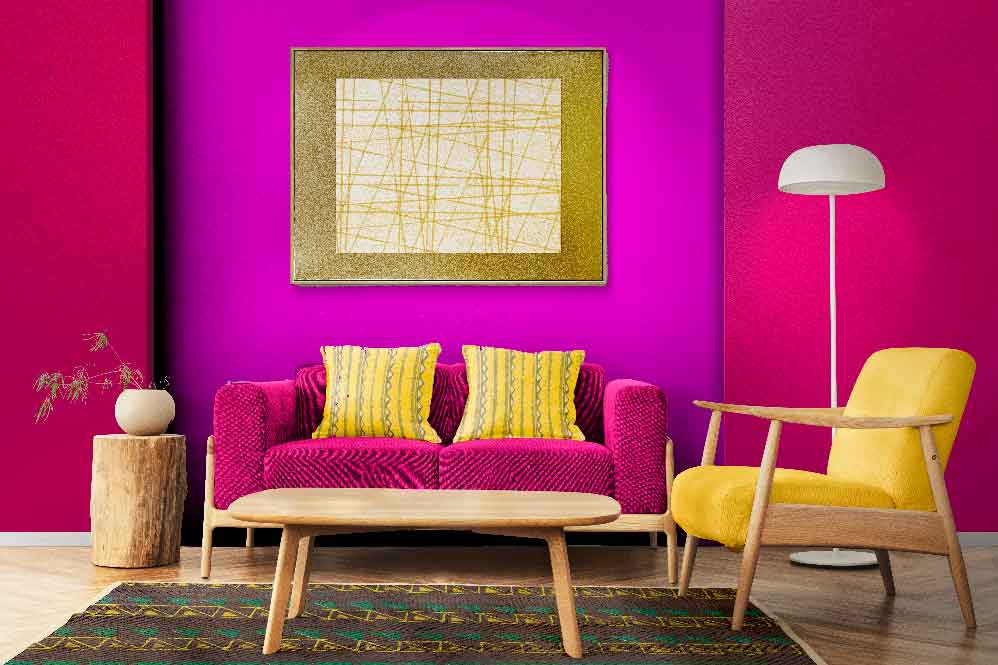 26. Maroon and Blue
Both bright shades make the perfect companion for each other. The Maroon and blue color combination look mesmerizing and give a traditional outlook to the place. Many designers term this combination the power couple of wall shades.
Blue color represents respect, and maroon color represents courage. These shades are great for a bohemian interior design style.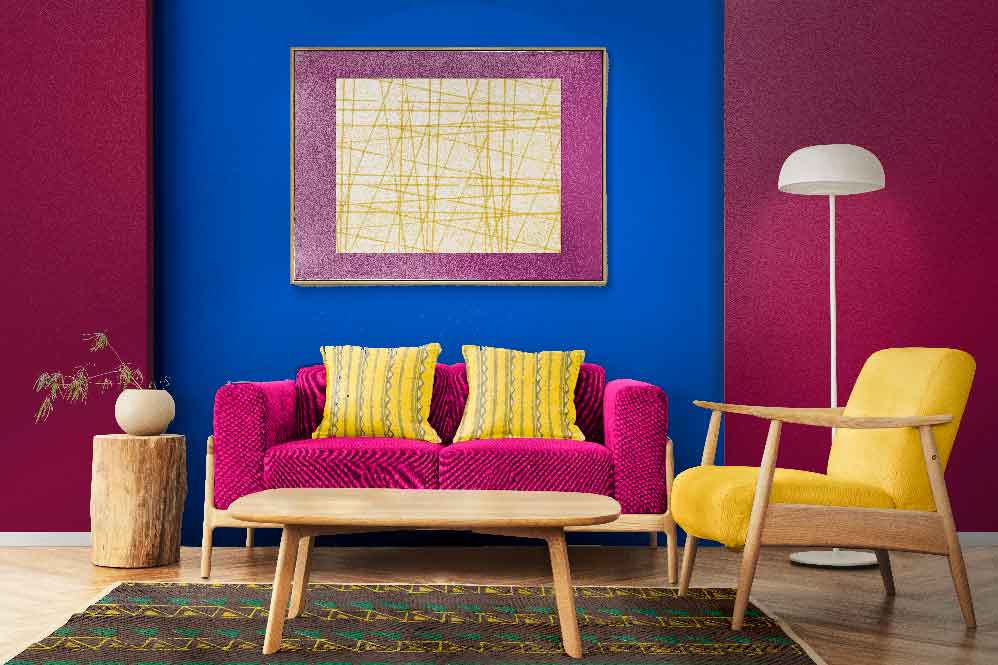 27. Burnt Red and Dark Brown
When you think about creating your living room for fun and entertainment, bright colors like burnt red play a big part. When you combine it with the harmony of brown color, it will enhance the room's livability many more times.
They together create an evergreen look that never fails to attract attention, presenting a cozy vibe.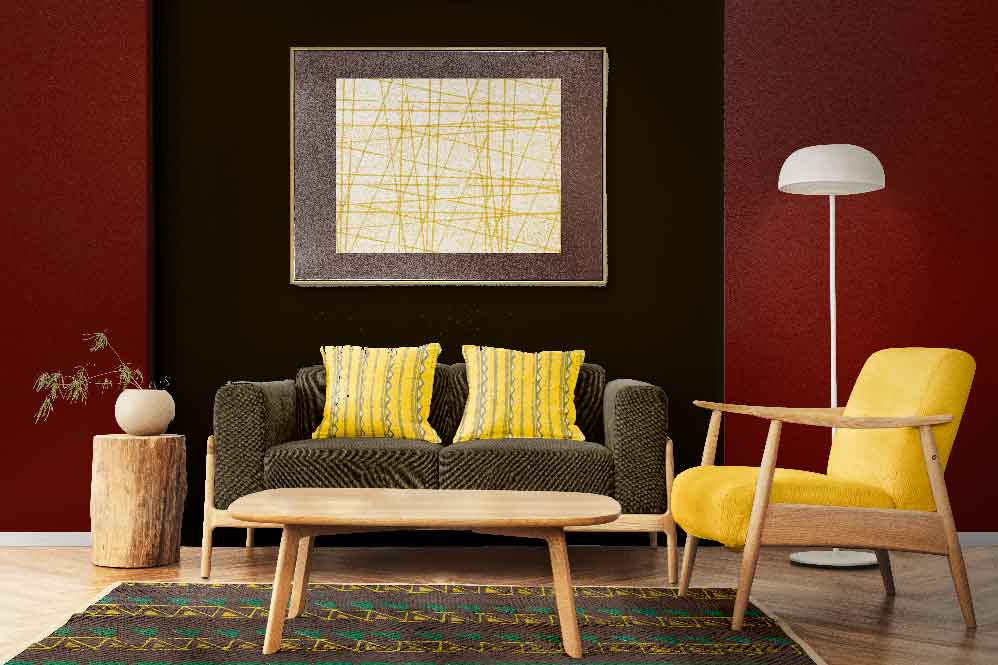 28. Raspberry and Pear Green
Both raspberry and pear green are happy colors and spread calmness in the space. These are the ultimate two color combinations for living room that exhibits positivity. These shades will look great with minimalist interior design styles.
You can choose to place white or light-shade furniture in the room. Raspberry color will add a design component to your living room accessories.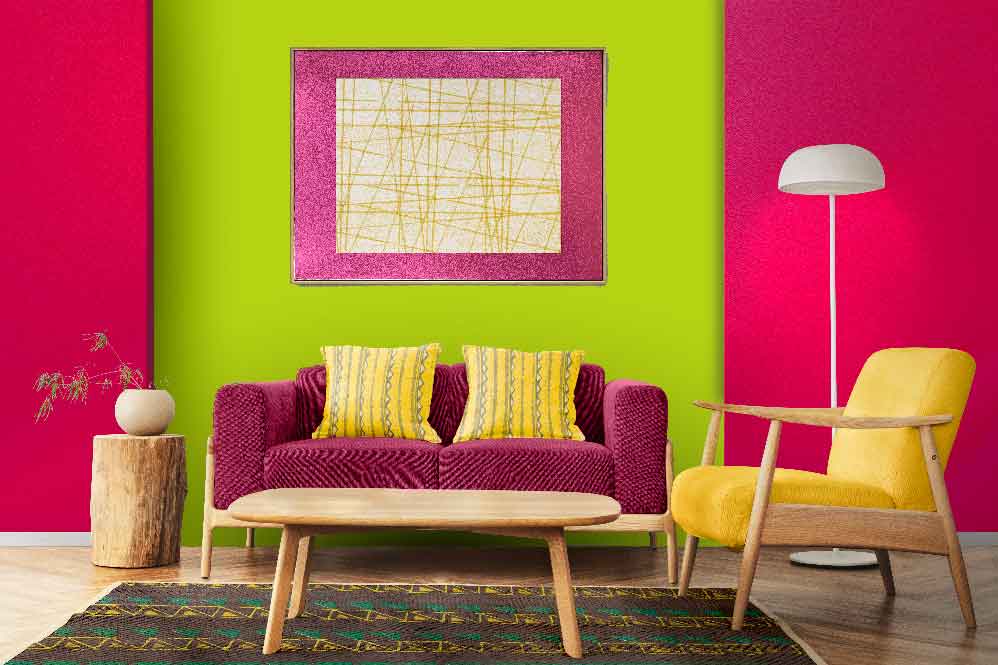 29. Vermilion and Ash Green
Vermilion color is a neutral color and goes well with almost all dark shades. However, the natural texture of Ash Green with Rust color is something interesting and beautiful. They spread a warm and cozy sense in the living room.
This makes it a perfect place to spend quality time. Decorate the walls with vibrant paintings to peak the glance of the living room.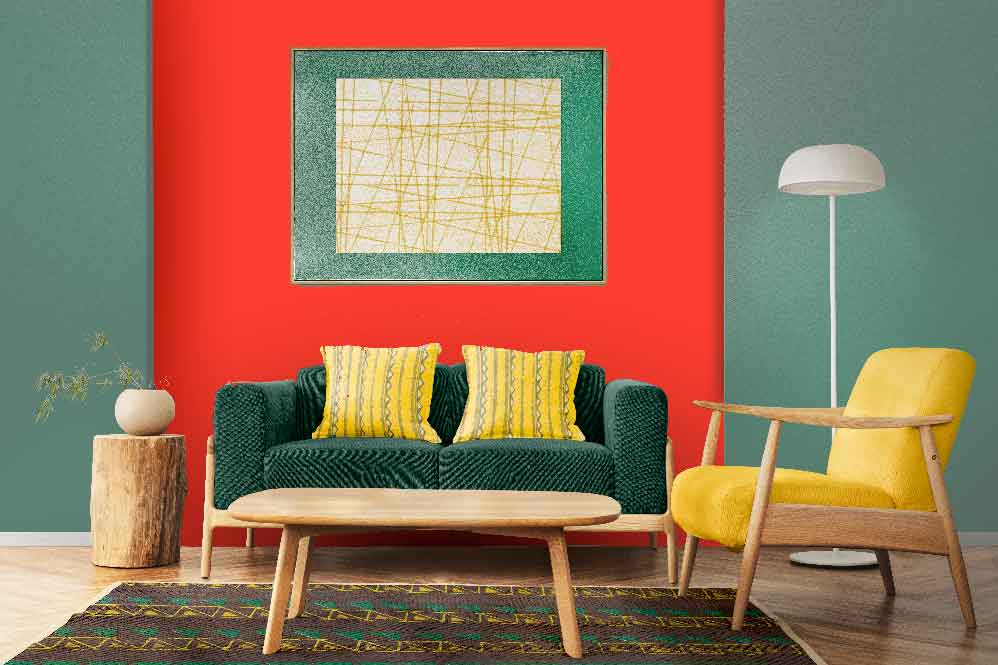 FAQs Related to Two Color Combination for Living Room in India
1. What is the best color combination for a living room in India?
Honey with Fire Orange, spring green and lemon chiffon, and coral with white are some of the best color combinations for a living room in India. You must also go through the combinations mentioned above in this write-up to make a better decision.
2. Which color is best for the living room?
The combination that creates calm and cozy vibes and an inviting environment is best for the living room. Shades of blue combined with tangy colors are great for small homes, while darker shades and light colors are great for large living rooms. 

3. What color combination for a small living room will be the best?
Baby pink with emerald green and rose red with magenta are some of India's best color combinations for living rooms. 

4. Can I also go with 3 color combination for the living room?
Yes, perfect color shades that go well with each other and space are good to go. Shades like yellow, grey, white, blue, white, and ivory are the most preferred color combinations for living rooms. 

Conclusion:
Ensuring the right colors to appease the livability of the home is important. The best living room wall color combinations can transform a simple-looking room into an attractive place. Perfect shades can transform the aura of the place and bring positivity. If you know the importance of interior designing, you are very less likely to go with random colors.
We are sure we have provided you with the best wall paint color combination for the living room. Go ahead, and plan the best color shades. If you have more suggestions, feel free to share in the comment section below.