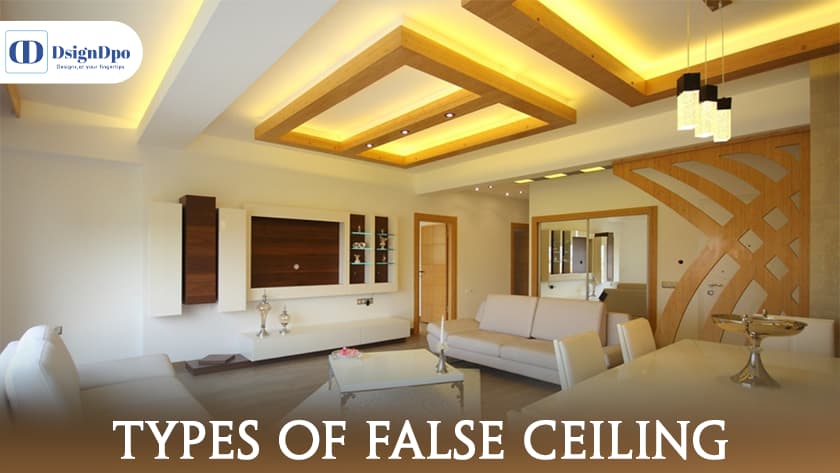 8 Ultimate Types of False Ceilings To Make Your Home Look Beautiful
The trend of flat and straightforward ceilings has dropped out. People nowadays are eyeing products that make the typical flat roof look charming with minimal cost.
With the recent surge of false ceilings, it has become more accessible for people to enhance the beauty of any space. False ceiling designs provide extra beauty to the building. Also known as the drop-down ceiling, these are made from different materials offering a smooth, homogeneous surface to the wall.
Generally, the false ceiling is a fixed metal grid tied to the original roof. The false ceiling is usually kept far from the original ceiling using metal wires. The gap between the roof and the false ceiling is kept in inches, but it can be increased up to one foot when the floor height exceeds 10 ft.
Purpose Of False Ceilings
To install lights and other fixtures
To manage the height of the ceiling
To enhance the beauty of a room's interior
To Provide sound and thermal insulation
To conceal electrical wires and cables.
Recommendation On Use Of False Ceiling
False ceiling works well only when the following conditions are taken into consideration-
Built and maintained correctly over time
The selection of material is based on the desired ambience
The proper floor-to-ceiling height is maintained
Based on climate-related issues.
Also Read: 10 Types of Flooring in India: Which One is Right For Your Home?
Types of False Ceilings
Different types of false ceilings are used in home interiors and are classified according to their materials, appearance, and visibility.
However, their primary classification is done according to the material. Here are the eight significant types of false ceilings widely used.
POP False Ceiling
Gypsum Board False Ceiling
Wooden False Ceiling
PVC False Ceiling
Metal False Ceiling
Glass False Ceiling
Fibre False Ceiling
Fabric and Synthetic Material False Ceiling
Let's discuss each type in detail
1. POP False Ceiling
Plaster of Paris (POP) is basically gypsum and is the most popular material used in roofing applications. POP is created by heating gypsum to a temperature when water evaporates. This material is available in powder form; it hardens when water is added and is later applied on wooden boards, fiberboards, or metal frames with desired shape and design.
As a highly durable material, it offers good insulation. The false ceiling made from POP is attractive. They hide ugly structural membranes like ducts, beams, ventilation, and conduits giving a smooth and uniform finish.
Advantages
The POP ceiling is 20-30% cheaper than a Gypsum board ceiling.
It can be easily moulded in any shape.
Highly durable material with minimum wear and tears.
Disadvantages
POP material needs high skill to be applied to the ceiling to give desired shape and design.
The extra quantity of POP is required to prepare because it is impossible to calculate the exact amount.
It creates a messy place wherever it is used.
Also Read: Top 20 Types of Beds for Home With Sizes
2. Gypsum Board False Ceiling
Gypsum board is one of the most widely used construction materials in interior design. It is a soft material obtained from calcium sulphate and available as an evaporite.
Gypsum board false ceiling is designed to be used without plaster on walls, ceilings, or partitions, providing a surface suitable for paint or paper. Available in factory-made boards, the aesthetic look of these boards can be enhanced by finishing with laminate and paints. These are also amenable to wallpapers and texture finishes.
Types Of Gypsum Boards
Regular Gypsum Board
Fire Resistant Gypsum Board
Moisture Resistant Gypsum Board
Fire and Moisture Resistant Gypsum Boards
Advantages
Effortless installation
Provides seamless appearance
They are manufactured in factories; hence their quality and strength are excellent.
Disadvantages
It is easily affected by moisture and water.
Its replacement process is challenging and tedious.
The leakage in AC pipe or roof ceiling leak can create moisture-rich conditions, which result in fungal growth.
It cannot be recycled.
3. Wooden False Ceiling
If you want to give your false ceiling design a warm and rustic look, then you can select a wooden ceiling for your home. Wood is often used in false ceiling designs due to its natural patterns and textures. The wooden false ceiling gives your room interior a warm and rustic look.
Wooden panels come in hollow blocks, panels, boards, and plywood. Its main benefit is that it can be cut in any shape and size before use. It is also available in different finishes. If budget isn't an issue, wood ceiling panels offer a rich and sophisticated look.
Advantages
Easy to install
Durable
Various finishes and paint options
Possible to soundproof your space using sound-absorbing wood panels
They are beneficial in cold regions.
Disadvantages
These types of ceilings are prone to termite attack and warping
Prone to fire damage
The room should be thermally controlled to reduce moisture
Requires high maintenance
Very costly.
Also Read: 7 Crucial Elements Of Interior Design
4. PVC False Ceiling
Polyvinyl chloride (PVC) is an ideal plastic material for false ceilings and a highly cost-effective alternative to other costlier conventional panels. These panels are easy to install, lightweight, and need minimal maintenance and termite proof.
PVC material is exceptionally water-resistant, making it a perfect solution for water leakage problems from the ceiling. Additionally, they are available in various designs, colours and sizes; they have hollow cores and shiny, smooth surfaces.
Advantages
Hassle-free and easy installation
PVC panels are strong and highly durable
Lightweight
Easy to clean
Waterproof
Require less maintenance
Low cost.
Disadvantages
PVC is dangerous to health
These ceilings are less attractive
Not resistant to heat.
5. Metal False Ceiling
These metal panels are made of steel, aluminium, brass, and galvanised iron, widely used in false ceilings. The metal false ceiling is available in planks, ceiling tiles, and panels and is manufactured in various shapes and sizes for ceiling work, giving a shiny look to furnishings.
The thickness of metal ceiling panels is generally in the range of 0.4mm to 1mm for false ceiling work. Square, perforated, or plank are the types of shapes used for false ceilings. These are the most durable and long-lasting materials compared to others.
Advantages
Easy to install
Durable and long-lasting
Do not crack or warp over time
Fire resistant
Require low maintenance.
Low labour cost.
Easy to repair
The hidden members are easily accessed as metal ceiling tiles or panels are removable and re-attachable
Disadvantages
Metal panels are costly
They require a coating to protect them from corrosion.
Also Read: How to Become An Interior Designer in India?
6. Glass False Ceiling
Glass is used to create the illusion of space and thus adds beauty to false ceilings. Non-crystalline material with brittle and transparent properties, glass is popularly used for decoration and lighting work. As a good insulator, it is available in various colours and patterns for adding beauty to false ceiling designs.
Advantages
The glass ceiling gives an eye-catching look to the room's interior.
Glass is a good heat insulator.
The transparent nature of glass is utilised to make a small space look bigger.
Colouring, laminating and patterning are possible.
Disadvantages
The glass should be handled with care during installation. Requires skilled workers.
Dust and dirt are easily visible on the glass. Requires proper maintenance and regular cleaning.
Very expensive.
7. Fibre False Ceiling
Also known as soundproof or acoustic ceilings, these fibre false ceilings are known for their sound and heat insulation properties. They have toughness, resistance to fire, and hardness. This is achieved by mixing natural and synthetic materials such as bitumen, vegetable fibres, tars, stone, and wood. They are highly recommended for commercial applications. They are unsuitable for residential applications because they lack aesthetic appeal.
Advantages
Easy to install
Heat and sound insulation properties
Fire resistant
More Hardness and toughness
Disadvantages
Due to a lack of aesthetics, they are unsuitable for residential applications.
Prone to water damage.
Also Read: Modular Kitchen Price in India
8. Fabric and Synthetic Material False Ceiling
Fabric and Synthetic leather false ceilings are made by moulding cloth or faux leather into different designs. These can be used for a specific purpose, like an event or an exhibition but are not durable in the long run as they are prone to damage and dust.
Fabric or synthetic leather is used only for ornamental purposes. They are aesthetically outstanding but functionally weak. They can create a unique ambience because they can be made in intricate designs to match the rest of the interiors.
Advantages
Easy and quick installation
Better aesthetic appearance
Affordable
Disadvantages
They collect dust and stains easily.
They have low light transferring capacity.
Not valid for home decoration.
Pros & Cons Of False Ceilings
Pros Of False Ceiling-
Easy Installation- Easy to install using the right tools.
Aesthetic- Great for aesthetics once installed. It changes the look and feel of the room.
Thermal Insulation- It helps to keep the room much more relaxed in summer and warm in the cold by creating a gap between the terrace and ceiling.
Fire Protection- It helps to stop the spreading of fire in buildings.
Electricity Savings- It saves electricity bills by increasing air conditioning performance.
Sound Insulation- Great for acoustic and helps to reduce outside noise making your room quiet and comfortable.
Lighting Option- It lets you play with lighting. You can conceal any lights behind the ceiling.
Hide Wirings- It hides the electrical wirings, plumbing ducts and other fittings.
Cons Of False Ceilings-
The false ceiling material is lightweight and not solid, which is extremely dangerous during an earthquake or any other calamity.
The false ceiling requires regular maintenance and has no long shelf life.
Installing a false ceiling reduces the floor height by several inches or feet as it is fixed at some distance from the original roof.
The sagging of the false ceiling is a common problem during the utility period.
Also Read: Top 9 Blue Two-Colour Combinations for Bedroom Walls in 2023
Conclusion
Given the materials used in ceiling panels, ceilings become alive with imagination and innovation. Typically, false ceilings are drop ceilings which hang from the central ceiling. The various types of false ceilings described above are used to create ceilings visible to the people inside a building or room. With suitable materials and designs, you can transform the overall look of a room. An excellent false ceiling also helps in controlling the temperature of the house.